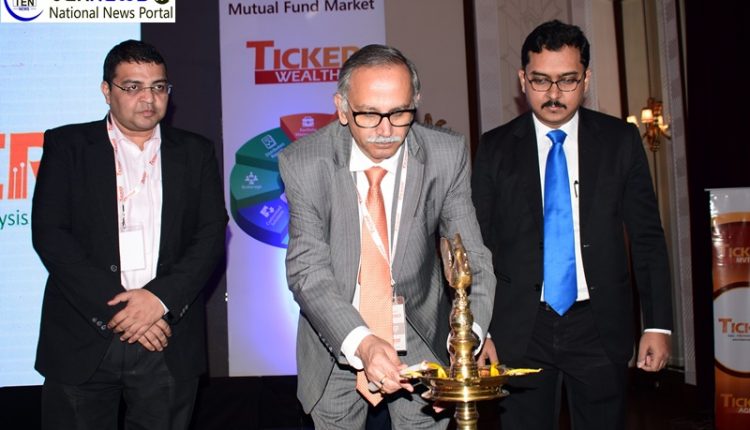 TICKER just made investing in Mutual Fund easier, launches two new products "TICKER Wealth" and "TICKER EOD"
Prerit Chauhan (Photo/Video) By Lokesh Goswami Ten News Delhi :
New Delhi: Today, mutual funds have emerged as one of the hottest investment choices for all investors as they are easy to invest in and also suit every budget. Tickerplant Limited (Ticker), on Friday announced the launch of a feature enriched mutual fund market back office cum investment, web based application, called "Ticker Wealth". 

The new application covers almost all features required by Individual Financial Advisors (IFA), Mutual Fund Distributors, as well as investors.  Besides, Ticker has also announced the launch of "Ticker EOD" which is aimed at helping students, researchers, investors to understand the market behavior and trends.
For brokerage calculation, the application will provide monthly brokerage report, upfront commission, trail commission, B30 and other brokerage incentive reports. All such reports will be displayed folio wise and scheme wise. For tracking portfolios and transactions web login facilities are provided for clients.
As an added benefit for distributors, hierarchy wise reports as well as region wise AUM reports are also made available. "I wish good luck for Ticker's new venture into personal finance, and hope it bridges the information asymmetry for consumers", said, N S Venkatesh, CEO, AMFI.
Speaking to Ten News on the Occasion, Arindam Saha, Jt. CEO, Tickerplant said "Ticker Wealth has many innovative features like AUM report, SIP report including SIP – expired, Bounced, expiring, client portfolio (summary and detailed report), transaction report and dividend report etc. With this product we intend to help IFAs and others to manage their businesses more effectively. Unlocking of savings through mutual funds investment is important for further financial inclusion and prosperity."
During this launch in Delhi, Ticker has also launched "Ticker EOD", a web-based product for students, researchers and investors among others as well which is designed with best in class innovations. The Ticker EOD is an enhanced customer friendly platform which provides the specific details of equity, derivatives, commodity, currency & fixed income markets.