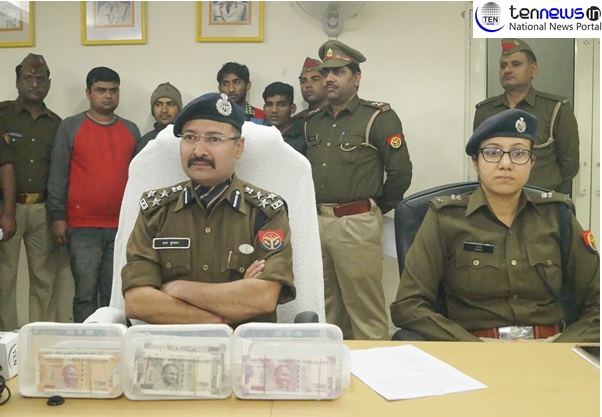 Fake currency racket busted in Greater Noida, Counterfeits of New Notes seized!
Saurabh Kumar
9/2/2018         Saurabh Kumar
Yesterday evening 4 accused were nabbed with fake currency of 5 lakh 94 thousand from a residence under Eco tech III area, Greater Noida. In the raid the master mind of the gang is able to flee from the spot.
The four accused are identified as Nasir, Shahrukh, Nafess and Deepak, all native of Moradabad. On a tip of from an informer a police party led by Station in charge Eco tech III police station KK Rana nabbed them from residence of Anuj at 7:15 evening with a cash of 5 lakh 94 thousand.
DIG/SSP Gautam Budh Nagar, Love Kumar told that "master mind of this gang is Rehan who also had a criminal history and his father was also arrested earlier under the same crime. Rehan had bought all the needed items like printer, Scanner, paper, tape etc and started printing at  Nafes house. Shahrukh was responsible for printing and scanning as he had knowledge of computer. Deepak and Rehan used to work in a Prathama Gramin Bank on contractual basis under Bhagatpur Tanda police station , Moradabad as they are assigned to help local people in getting loan and there they used to mix fake currency in the cash which was further given to person getting loan."
Further he told that "rest of the member used to channelize the money in market through different ways like at petrol pump, liquor shops etc. during interrogation they admitted that till now they had flown fake currency of around 19 lakhs in market. Shahrukh was also arrested earlier in a case of online fraud in which he transferred 47 lakhs in his friends account by doing fraud in year 2014″.
All four are sent to jail and tomorrow will be presented before court. Police is doing probe for the arrest of 5th accused Rehan.