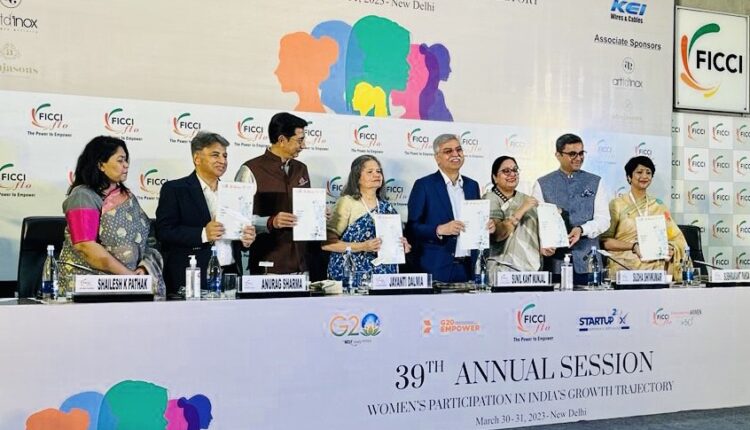 FICCI Ladies Organisation (FLO) honours inclusive women and releases Gender parity index
New Delhi March 31, Country  needs more action and less conversation on the ground for empowering women. More support is needed for start-ups , digital learning, community transportation, healthcare, women empowerment and education.

"women are the much smarter half of the population and are inherent multi-takers and excel in everything they do. To take India's growth to next horizon we need to have more women in leadership and how women as leaders bring a higher level of efficiency and productivity at the front." Said Mr Sunil Kant Munjal while speaking at the 39th annual session of FICCI Ladies Organisation (FLO) apex body of businesswomen in the country.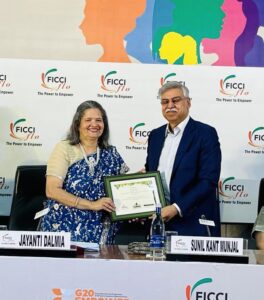 "Women need to  innovate, adapt and inspire in order to succeed in the current dynamic business environment. We at our Hero group's  various organisations and foundations lay equal emphasis to recognize and celebrate women leaders as change-makers at the grassroots level, as they are the ones who impact the lives of those around them be it by building businesses, impacting communities, and driving social change, all without any formal training and strong support from the society they operate in." said Mr Munjal sharing  his experience of scaling up Hero Cycles to making it the largest motorcycle manufacturing company in the world.
"We have women working in our organisations but still more needs to done for them  . Let's continue to inspire and support them for they are the harbingers of change and the key to building a better nation. He stressed on conserving our art and culture as apart from our  various businesses we  started the Ludhiana Sanskritik Samagam which supports performing arts across North  india and the Serendipity Arts Foundation, which also hosts an annual festival in Panjim each year." He added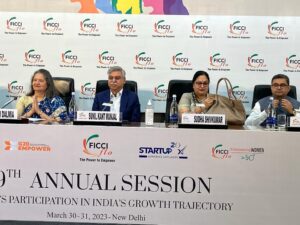 " My objective as FLO President, was on empowering women by facilitating an enabling environment that promote entrepreneurship and equal opportunities for women. As the President of FLO my endeavour was to bring the best resources and opportunities to the organization. This year as the President, was to propel learning, increase networking and ensure enrichment amongst our members. The theme for 2022-23 was "Transforming Women's Participation in India's Growth Trajectory" and facilitating economic empowerment of women." Said Ms Jayanti Dalmia, National President, FICCI Ladies Organisation (FLO) .
"We aimed at fostering economic growth & prosperity through global trade and address existing challenges by converting them into large-scale opportunities for Business Networking, Go to Market, Business Promotions, Trade Relations, startup handholding, facilitating financial literacy, digital empowerment, inclusion of the especially abled, to name a few important action points during the year." She said,
"India is world's engine of growth but a lot needs to be done for the gender parity as gender parity is an economic imperative . But certain encouraging factors in recent year including 14% of enterprises in the country are women owned start-ups . FLO the women wing of FICCI recognizes women's participation in economic growth of the country. FLO has documented the gender ratio in India's formal sector. The gender parity index is first of its kind in the country. " Said Mr Subhrakant Panda, President, FICCI
Major highlight of the annual event was FLO inclusivity awards to various achievers and release of the second version of Gender parity index.
Those present on the occasion included Shailesh Pathak, Secretary general, FICCI, Ms Sudha Shivkumar, incoming FLO national president, Mr Anurag Sharma, Member of Parliament and Ms Rashmi Sarita, Executive Director , FLO