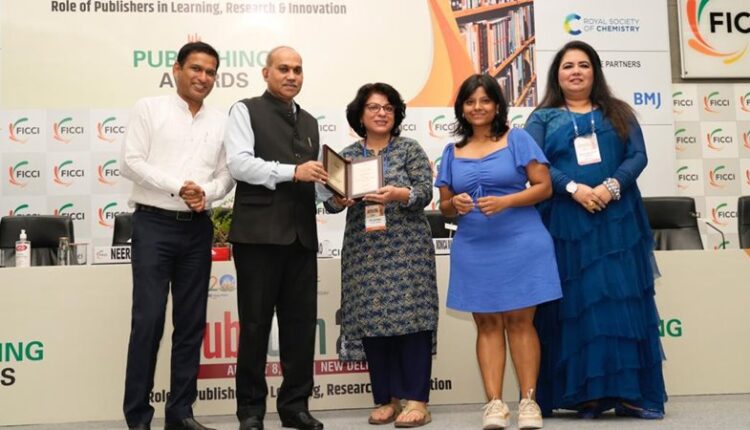 FICCI 'PubliCon 2023' celebrates the role of publishers in learning, research and innovation
Ten News Network

New Delhi, August 8th, 2023: The Federation of Indian Chambers of Commerce and Industry (FICCI) hosted the 'PubliCon 2023', focusing on the pivotal role of publishers in learning, research, and innovation. The program also featured the FICCI Publishing Awards, honoring outstanding contributions in various genres including Business, Translation, Designing, Fiction, Non-Fiction, and Children's Literature. The event took place at the Federation House in New Delhi, where renowned figures from the publishing industry, academia, and government converged to celebrate literary achievements and the role of publishing industry in learning, research and innovation.
Dr. K. Sreenivasarao, Secretary of the Sahitya Akademi, said that, "Our philosophy and hypothesis can be easily conveyed to learners through storytelling. This is because learners tend to learn faster when they can identify with elements of the story that relate to the lesson."
Dr. Debapriya Dutta, Scientist 'G' & Head of the Science for Equity, Empowerment, and Development (SEED) division and the State S&T Programme (SSTP) under DST, Government of India, shared that India's performance on various indicators of measuring research output globally has been improving at a faster pace. He said, "Research communication or forecasting plays an important role in defining research priorities and their potential social and economic progressions, publishers can play an important role in strengthening this communication."
Dr. Remya Haridasan, Scientist ' D ', Office of Principal Scientific Adviser to the Government of India, said, "National Research Foundation (NRF) bill opens up new avenues for publishers to contribute to promoting India's research output."
Neeraj Jain, Chair of the FICCI Publishing Committee and Managing Director of Scholastic India, highlighted the collaborative nature of the industry, stating, "The FICCI Publishing Awards not only celebrate individual achievements but also showcase the collective strength of the publishing ecosystem
Monica Malhotra Kandhari, Co-Chair, FICCI Publishing Committee & Managing Director, MBD Group highlighted the event's significance, stating, "There is a lot of content being generated and published, so it is important to recognize the responsibility that comes with each piece of writing. It is essential to conduct thorough research before publishing any content."
The event provided a forum for industry leaders, government officials, and literary enthusiasts to engage in insightful conversations about the evolving landscape of publishing and its impact on education, research, and innovation.