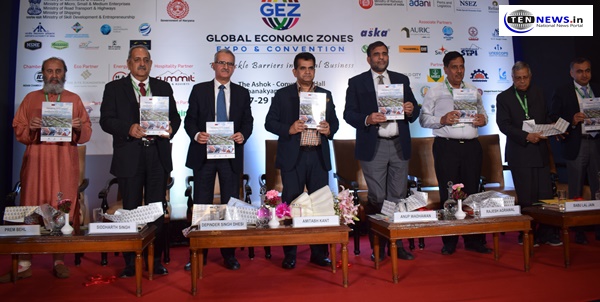 New Delhi : (27/03/2019) The first-ever Global Economic Zones (GEZ) Expo & Convention 2019 was inaugurated by Amitabh Kant, CEO of the NITI Aayog today in National Capital.
Organised by the Export Promotion Council for EOUs & SEZs (EPCES) in collaboration with Wbf International Centre Services (WICS), and managed by the Exhibitions India Group (EIG), the event provides a platform that allows sharing of good practices and experiences between special economic zones and highlights the role they have played in the development of the country.
Speaking during the special address at the inaugural ceremony, Amitabh Kant, CEO of the NITI Aayog said, "I am a firm believer in the fact that it is not possible for India to grow at high rates of 9-10% over a long period of time without exports. While we are growing at about 7%, we need to grow at 9-10% year after year for the next three decades or more to be able to lift our very young population above the poverty line. This is just not possible without exports."
He further said, "No country post World War II, whether it was Japan, Korea or China, has grown without exports. And, therefore, for exports to grow, we need the ease of doing business. On the subject of trading across borders, a lot has to be done. We are currently placed 86 globally, and need to become number one. Also, it is not possible to grow without size and scale, which can happen only if we are able to create large economic zones, as has happened in Singapore and China."
Talking specifically about the development activities in the State of Haryana, Depinder Singh Dhesi, Chief Secretary, Government of Haryana said,
"Our government has taken a decision, in principle, to set up what we call the 'Panchgrams', the five 'Mega Cities', each one having an area of 50,000 hectares; so cumulatively 250,000 hectares of activity all along the expressways. Of course, these things take time. The concept will evolve gradually, also taking into account what is happening with the rest of the nation and the world. As part of the Delhi-Mumbai Industrial Corridor, we already have a number of early-bird projects and definitely some of these will be in the shape of economic zones."
Anup Wadhawan, Secretary, Ministry of Commerce & Industry, Government of India said, "SEZs are extremely important instruments, if you look at their evolution historically, and the role they have played across the world, particularly in countries like China, and also in countries like India. For an economy-wide reform of the policy and regulatory framework, and of the soft and hard infrastructure required for economic development, this is not a practical exercise that is likely to yield results in the foreseeable future. So typically we need to focus our efforts in manageable pockets."
EPCES has been set up by the Ministry of Commerce & Industry, Government of India, to service the export promotional needs of EOUs & SEZs in the country. It has a clear mandate to attract investment in SEZs (including FDI) and to market Indian SEZs abroad in order to attract units to SEZs. EPCES represents major industrial sectors, like textiles, garments & yarn, gem & jewellery, leather goods, food & agro products, electronics & software, pharmaceuticals & chemicals, engineering, minerals, granites & other stones, plastic & rubber goods, etc. EPCES is the only scheme-specific and multi-products exports promotion council.