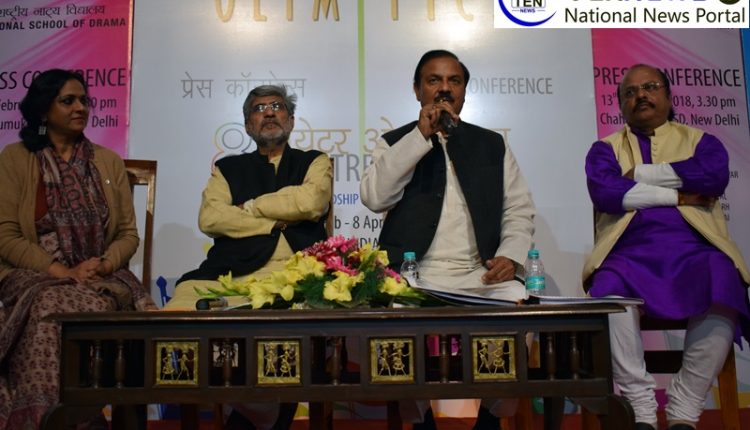 New Delhi: Theatre lovers in lndia have a reason to rejoice! The country is set to host the largest international theatre festival the 8'h Theatre Olympics for the first time, with participation from 30 countries in a series of performances to be held across India.
The 51-day-long event will be inaugurated at the majestic Red Fort on 17th February, 2018 at 6:30 and will travel to 17 Indian cities with 450 shows, 600 ambiance performances and 150 power packed youth forum shows with participation of 25,000 artists from the globe. The festival will be concluded on 8th April, 2018, with a grand ceremony at the iconic Gateway of India in Mumbai.
The theatrical extravaganza is being hosted In India by the National School of Drama under the aegis of Ministry of Culture, Government of India. The theme of the 8'h Theatre Olympics is "Flag of Friendship" that aims to bridge borders and bring people of different cultures, beliefs and ideologies together through the medium of theatrical art.
Theatre and film veterans of the likes of Shabana Azmi, Paresh Rawal, Mano} loshi, Himani Shivpuri, Seema Biswas and Saurabh Shukla will also take part during this grand theatrical treat.
The National School of Drama is the torchbearer of theatre in India and has trained some of the most respected actors and theatre stalwarts of all time. Established in 1959, it has a proud legacy spanning over six decades of theatrical perfection. Hosting the 8'h Theatre Olympics adds another feather to the cap of this historic institution.
The festival is considered to be the biggest international celebration of theatre in terms of plays, participants, performances and number of days. During the festival, plays will be held in Agartala, Ahmedabad, Bengaluru, Bhopal, Bhubaneswar, Chandigarh, Chennai, Delhi, Guwahati, lmphal, Jaipur, Jammu, Kolkata, Mumbai, Patna, Thiruvananthapuram and Varanasi.
Participants from 30 countries including Australia, Azerbaijan, Bangladesh, Belgium, Brazil, China, Czech Republic, Denmark, France, Germany, Greece, Israel, Italy, Japan, Lithuania, Mauritius, Nepal, Poland, Russia, Sri Lanka, South Korea, Spain, Turkey, United Kingdom and U.S.A. would showcase their acumen in theatre.
Numerous allied activities like seminars, symposia, 'lnterface' and workshops with wellknown academicians, scholars, authors, actors, designers and directors are scheduled to take place across 17 cities. The allied programs would boast of 60 'Living Legends' series and 50 'Master Classes'. The 8'h Theatre Olympics would also include 2 international seminars in Delhi and Mumbai with 6 national seminars in Bhopal, Bengaluru, Chandigarh, Jaipur, Kolkata and Varanasi.
The best way to preserve knowledge is to pass it on. Upholding this Spirit, the students of National School of Drama are all pumped up for the theatre festival. Through the youth forum of National School of Drama, "Advitiya 2018", young voices are being channelled through street plays. music bands, short play writing and theatre reporting. There will be a competition on short play writing with cash prizes of INR 25,000, 50,000 and 1 lakh.
"Art has been the earliest form of communication. Nothing gives an artist more delight than performing in front of an audience that appreciates art, no matter from which part of the world they come. In a way, theatre is a great equalizer and unites people of multiple cultures and traditions under one umbrella. We are extremely proud to bring the world's largest theatre festival to lndia. During this 51-day long nationwide celebration of the 8th Theatre Olympics, we attempt to bridge the borders across countries through the call of theatre and engage in creating a global village," says Dr. Arjun Deo Charan, Acting Chairman of National School of Drama Society.
#Things keep in mind about the 8th Theatre Olympics#
• The 8th edition of the global theatre festival will have 17 Indian cities hosting 450 shows, 600 ambience performances, and 250 youth forum shows, with the participation of 25,000 artists from across the globe, making it the biggest theatre celebration.
• The Theme of the 8'" Theatre Olympics 2018 is "Flag of Friendship."
• 30 countries are set to present a wide spectrum of philosophies, ideologies, and techniques through 30 languages.
• The 51-day-long, nationwide theatre extravaganza would be inaugurated in the majestic Red Fort on 17th February 2018.
• The most-awaited event to have participation of theatre maestros such as Ratan Thiyam, Alyque Padamsee, Rudraprasad Sengupta, M.K. Raina, Raj Bisaria, Bansi Kaul, Prof. Tripurari Sharma, Maya Rao, Bhanu Bharti, Nee/am Mansingh Chowdhry, Prasanna, Surya Mohan Kulshreshtha, Satish Alekar, Usha Ganguly, 8. Jayashree, and Manoj Mitra among others.
• The festival will include 60 'Living Legends' series conversing with theatre enthusiasts and 50 'Master Classes' on various art forms.
• 2 international seminars will be held in Delhi and Mumbai. 6 national seminars will take place in Bengaluru, Bhopal, Chandigarh, Jaipur, Kolkata, Varanasi, hosting national and international academicians and scholars with eminent theatre practitioners.
• The Youth Forum "Advitiya 2018" to be organised by the students of National School of Drama, comprising of competitions for music bands, street theatre plays, short play writing and cultural journalism.
#About Theatre Olympics#
The Theatre Olympics was established in 1993 at Delphi, Greece. Being an international theatre festival, the Theatre Olympics presents some of the greatest theatre practitioners from around the world. It is a platform for theatrical exchange, a gathering place for students and masters, where a dialogue despite ideological, culture and language differences is encouraged.