First time since its inception Noida Walls Decorated with Mahatma Gandhi's Mural and Quotes!
Talib Khan
NOIDA, (2/2/2019): Finally the teachings and presence of The Father of The Nation Mahatma Gandhi reaches Noida.
Noida Authority has undertaken a beautification drive in which a large mural of Mahatma Gandhi will greet the passerby. The mural is painted at a wall in Sector 6, Industrial Area.
Rajeev Tyagi, General Manager, Noida Authority said, "This mural is a tribute to Mahatma Gandhi and his teachings. The graffiti has been commissioned under the 'Clean India Campaign' and has been done with an aim to inspire and motivate people to keep the city clean and green".
The paintings were painted by the painters from 'New Art'.
Ritesh Kumar Verma, co-founder, New Art says, "since the Clean India Campaign was inspired by Gandhi's teachings, we decided to paint his portrait on the canvas, which is about 18ft tall. Our motive is to make the graffiti visible as far as possible, which is why bright colors like yellow have been used to make the base of the artwork".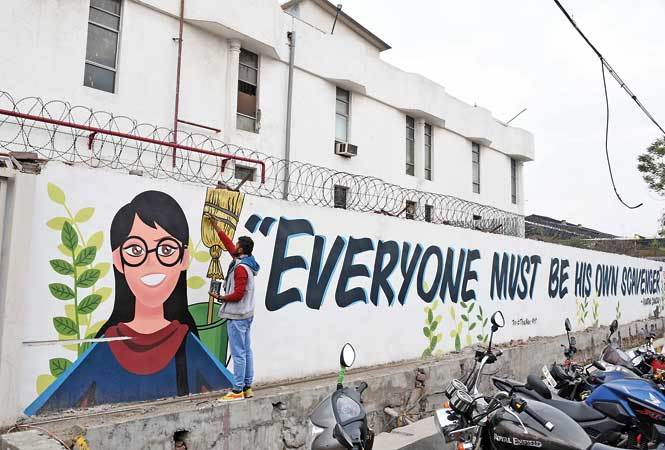 Accompanying the mural is Gandhi's quote, "Cleanliness is next to Godliness", along with a Clean India Campaign logo. Two more walls have been painted with slogans, "Everyone must be his own scavenger", and, "No dirt, this is earth, "Swachh hoga desh, swasth honge vasi".
For the first time after its inception, Noida is going to have anything related to Mahatma Gandhi on its wall. Earlier, Noida did not not have a single public statue or mural of Mahatma Gandhi.