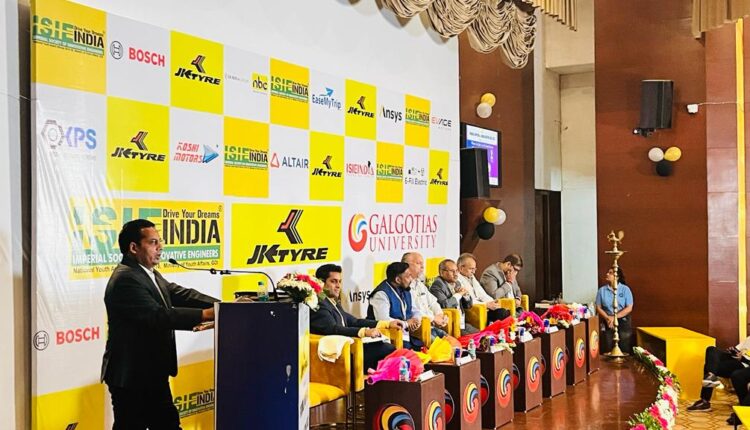 Five-day Formula Imperial and Indian Karting Race 2023 begins at Galgotias University
TEN NEWS NETWORK

The opening ceremony of the five-day Formula Imperiale and Indian Karting Race 2023 was held at Galgotias University on 13th October.
This five-day event is being organized by the Imperial Society of Innovative Engineers from October 12 to October 16, 2023. Important support in this program is being provided by the Mechanical Engineering Department of Galgotias University.
This program was inaugurated by the chief guest Dr. Rodney Revier from Germany. Dr. Rodney Revier (IGVET) heads the Indo-German Vocational Education Training Project.
He said that our main objective is to work with various people like government, universities, corporate offices and different institutions to enhance their skills. Our main objective is to promote the spirit of commitment and innovation along with team building. So that the youth (students) can have all-round development.
Vice Chancellor of Galgotias University, Dr. K. Mallikarjuna Babu said in his statement that this five-day seminar is a true mirror.
Prof. Vice Chancellor of Galgotias University, Dr. Awadhesh Kumar was present on this occasion and he told the students from all over the country that India has always talked about "Vasudhaiva Kutumbakam". We have always considered the entire world as our family. Therefore today we all have to work together with teamwork. Today is a good opportunity for the youth to hone their talents.
Vinod Gupta, President of Indian ISIE honored the guests by unveiling mementos and shawls.
The event sees 46 teams taking part in Go-Kart and Formula Imperiale with over 1200 participants mostly from 13 states.
Other prominent guests, Dr. Prosenjit Ghosh, Director – Hasetri JK Tire and Industries Limited.
Sanchit Chopra, Senior Vice President, Easy My Trip, Kashmiri Lal Juneja, General Manager, Extra Precision Screws Pvt. Ltd. also specially participated in this program and encouraged the students to move forward.