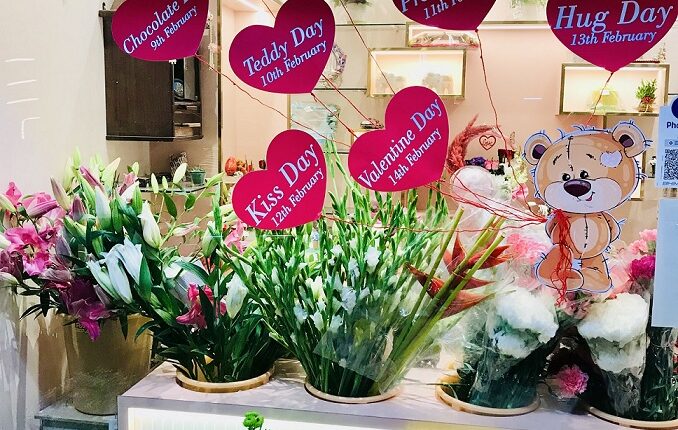 Florists are preparing for the Valentine's Day

New Delhi February 9, 2023  Florists across the country including National Capital Delhi are preparing for the Valentine's  Day, their busiest day of the year as millions of flowers are sold on this day.
For these business owners, The Valentine's Day flower rush translates to an increase in stocks, deliveries, longer hours, a frantic week and an onslaught of last-minute shoppers. Valentine's Day is one of the busiest and possibly the most profitable day of the year for them.
Every Valentine's Day, flowers are one of the most-purchased gifts. But this Valentine season  sending traditional floral arrangement to one's  loved one doesn't make for an exciting present – most bouquets look identical, filled with red roses and decorative greens.
"Valentine's Day is full of stories – family love, romantic love, friend love, self love. I think the meaning of Valentine's Day has broadened over time – it's all-inclusive now. "Designer's choice" are among favourite orders and the details clients provide to aid the arrangements are inspiring." Said said Mr Rahul Suri, Founder LOVEBUDS  start up.
This Valentine flower rush season Florists have come up with creative, unique and innovative ideas and are offering so many more options for the typical flower arrangement. From boxed flower arrangements, farm-to-bouquet designs wrapped in burlap to wildflower arrangements, one does not have to stick with tradition this Valentine's Day. One can gift something creative and uniquely beautiful meant to impress.
With Valentine's day just few days away a Delhi based budding flower-delivery start-up 'Luvbuds' has found innovative ideas of  filling and delivering flower bouquet orders for coming Valentine's with innovative messages and eco-friendly everlasting packaging for the first time in the country.
"There's nothing like a bit of flower power to brighten up one's day. As the traditional flower bouquets are becoming boring , so to spice things and make the age-old practice of flower giving exciting again we have come up we at 'Luvbuds' have come up with innovative idea to deliver roses and flowers to cater to specific audience that wants more unique options" said Mr Rahul Suri, Founder of LOVEBUDS  start up.
"we have developed unique customised long lasting  bouquet  packaging  boxes  which are delivered to customers full of flowers with unique  personal message or even senders or receivers pix. The flowers may last about a week but the container will last for ever as it can be used in different ways including as a photo frame or newspaper stand. This will remind the loved one about valentine day for years to come "said Mr Suri.
" The Boxed flower arrangements are the new black of the botanical world and we at 'luvbuds; are catering to a specific young audience that wants more unique options. To be sure, with their romantic undertones, roses still remain the most popular way to celebrate the lover's day .Flowers make everybody happy, but in this age of computers and Pinterest on Valentine's Day the requests tend toward the more traditional and, especially toward roses. But red roses, the traditional way to say 'I love you' is on the way out this season" he said.
"As men mostly rely on red roses but most of our women customers do not really like red roses, they like other colours roses like pink, yellow and white. Moreover they prefer orchids, carnations,  tulips and lilies or mixed spring bouquets instead of roses. Various colours of roses represent various sentiments like White says "I am the one for you." Pink means "Thank you." Yellow sends the message "We're friends and I care about you." And a yellow rose with a red tip? That's "I'm falling in love with you."" Mr Suri said.
 "It's about aligning with our demographic, it's not like we've invented a new flower. It's the way we're presenting them. We really plan to thrive on being able to send out those messages of love as Flowers are like medicine for the soul for lovers on the Valentine day." Said Mr Suri.
 "We realised that sending flowers is a really emotional event. Even on a regular day, we know we can make or break someone's day. Knowing that critical insight, come Valentine's Day we will deliver the right chosen flowers to the chosen on time," said Mr Suri.