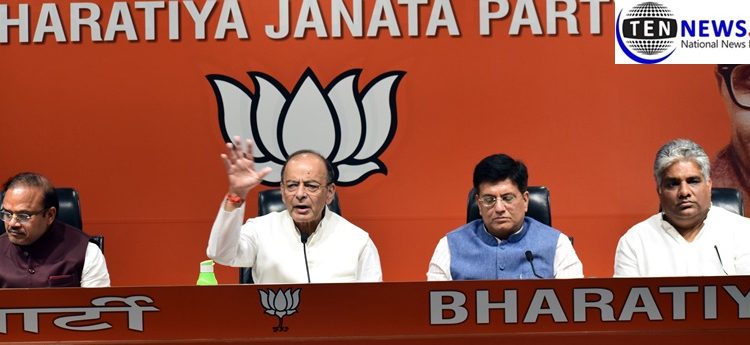 FM Jaitley Confirms BJP Manifesto to be revealed tomorrow : Tagline to be – Fir Ek Baar, Modi Sarkar!
Vishal Malhotra (Photo/Video) By Lokesh Goswami Ten News Delhi :
New Delhi : Today, Finance Minister Arun Jaitley spoke about various campaign materials, the prime focus of Bharatiya Janata Party's election manifesto and other preparations made by the ruling party for the upcoming Lok Sabha Elections.
Speaking at a press conference conducted in the national capital, Jaitley said that the campaign will be run in three themes including 'Government that works', 'Government that is honest', 'Government that takes big action'.
"Our main campaign theme will be 'fir ek baar Modi sarkar'. I am surprised that Congress manifesto did not even have a word on India's emerging middle class," FM said.
Further explaining the details of BJP's election campaign, Jaitley said we have given health care to the poor. "Our main aspect of the campaign will also be a comparison. You want a tested government or a Mahamilavati sarkar," he said.
Taking a jibe at the Congress manifesto, FM Jaitley said, People will believe in future promises only if a party has actually fulfilled promises made in the past. Eradicating poverty was also in their 1951 manifesto," Jaitley said. The finance minister confirmed that the BJP will release its election manifesto tomorrow.