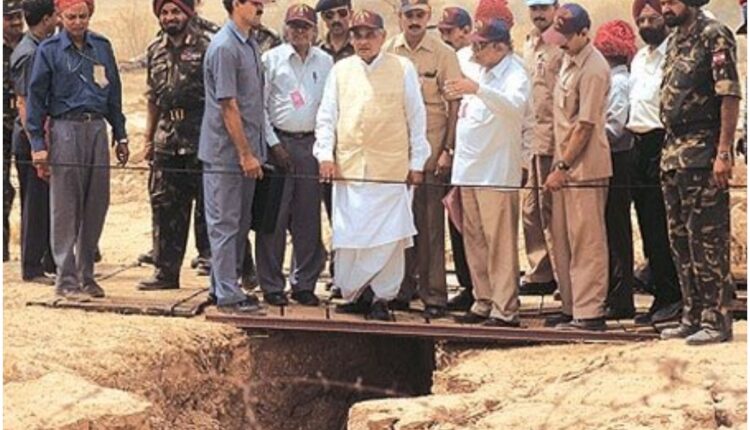 "Foster Research for Development & Tech Innovations for Accelerated Green Economic Resurgence" – Prof PB Sharma
TEN NEWS NETWORK

As India celebrates the Technology day this year to rejoice and recognize the exemplary contributions  of its scientists and technologists in Nation building and for self-reliance in strategic defense, agriculture, software and IT services, it is high time to acknowledge the great role being played by technology in all aspects of human endeavors, ranging from education to healthcare, business process re-engineering, smart and intelligent manufacturing, efficient project management and above all in empowering India with great capabilities for the rapid rise of a digital India that has brought transparency and trust of the people in our developmental goals. In fact, the accelerated advancement of India during the last one decade, besides its outcome focused and action oriented leadership, owes to technology integration for creating both the ease of doing business as well as rapid strides of its scientists and technologists in ushering a new era of tech-savviness and technology innovations that enabled India to rise to great esteem in the global innovation index and transforming India into a global research and innovation hub.
The Technology Day in India is celebrated each year on 11th May to commemorate the successful testing of India's series of nuclear devices, code named Shakti-I to Shakti-V in 1998, also known as Pokhran-II successfully conducted under the leadership of illustrious scientist Shri APJ Abdul Kalam during the Prime Ministership of Shri Atal Bihari Vajpayee. It earned India its legitimate place in the elite Nuclear Club and gave clear signals of India's great indigenous capabilities in science and technology. From that day onwards Indian scientists and technologists continued to demonstrate exemplary capabilities enabling India to rise as one of the brightest stars of the East and a great science and technology power. India, as a nation, has made remarkable progress in the field of technology. From software development to space exploration, India is one of the leading nations in the world. Indian technology companies are now regarded as global players, and their contribution to the world economy is significant.
 Today as India prepares itself to achieve great goals of inclusive and sustainable development, it would be prudent for Indian scientific and technological community to engage in development of path breaking science and technology innovations that shall accelerate both the economic development as well as assure its vast population of youth a bright and green future. With remarkable success that India has achieved in respect of renewable energy and in moping out enormous water pollution under its Namami Gange mission, the new path breaking science and technology innovations should contribute to India's giant leap forward and firm resolve for Aatmanirbhar Bharat by ushering a new era of Circular Economy, achieving great goals of Zero Waste discharge and Net Zero Emissions to atmosphere to provide global leadership in green technology innovations. It would require a sustained support from the government for funded R&D in universities and R&D organizations to focus on 'Research for Development' and technology innovations for green economic resurgence. This would also require a major shift in our approach for research in our universities, to shift our focus from excellence per-se to relevance to the current and future needs to create India of our dream along the pathways of inclusive and sustainable development.
It is heartening to note that the theme for this year's Technology Day celebrations has been chosen as 'School to Startups-Igniting Young Minds to Innovate'. This is a great call for our young minds to focus on shaping themselves as innovators of the New Age and  usher a new era of mass entrepreneurship on the strength of path breaking sciences and technology innovations that shall create great economic development alongside with employment in plenty, making education in true sense a vehicle for transformation and development. The culture of innovation and entrepreneurship from school levels onward is an assurance of making education relevant.  India with its strong leaning towards Science, Technology, Engineering and Mathematics(STEM) education need to also take onboard our age-old, time tested Sanatan Vedic values of integrity, compassion, truthfulness and purity mind to create the vital STEAM that shall make science and technology education in true sense a global revolution to create a developed, prosperous and healthy world and a happy planet, achieving the sustainable development goals (SDGs) with clarity and certainty in the next 5-7 years. Let the Amrit Kal of 25 years from now be utilized for creating India of our dreams and let the strategies, missions and actions for Vikasit Bharat @ 2047 be developed to achieve the great vision of the founding fathers of our great Vedic Civilization that has an assurance of peace, harmony, development and good health for the people around the world. With the right investments and policies for research for sustainable development, India can become a global technology hub and achieve its vision of a developed and happy country by 2030. 
A word of caution: at this momentous occasion, the Technology Day 2023 should invoke a great sense of responsibility, in all of us here in India and in the citizens of all nations, for using advanced technology, including smart and intelligent digital devices and systems with utmost integrity and deep personal and organizational responsibility to avoid unimaginable miseries otherwise created by the misguide and misuse of technology. Let the spiritual strength of science and creative power of technology empower humanity with great capabilities to create a world of peace and happiness all around the globe.