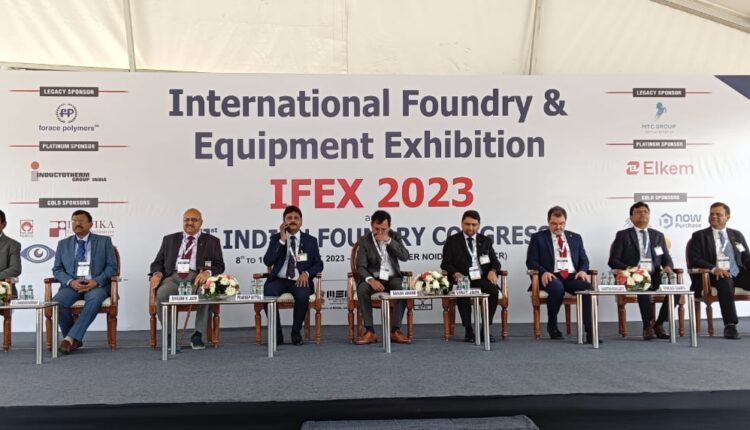 Foundry industry to play pivotal role in $5 trillion economy: President, IIF @ 71st Indian Foundry Congress
TEN NEWS NETWORK
New Delhi, 8th Feb: 71st Indian Foundry Congress, India Foundry Equipment Exhibition, the largest foundry exhibition and conference begun on Wednesday at India Expo mart. The event, which will last till February 10, 2023, is being organized by the Institute of Indian Foundrymen (IIF).

More than 12,000 business visitors, experts, professionals, engineers are attending the 71st India Foundry Congress (IFC) and India Foundry Equipment Exhibition (IFEX 2023). It will showcase the new technology, new trends and other components of the industries as well as discuss the upcoming challenges and opportunities for the industry, which is sized at USD 20 billion with exports of USD 3.5 billion in 2021-22.
According to IIF, the business meet is expected to witness over one million tonnes of casting buy-sell deals during the three-day event.
Leading foundry producing and importing countries and their representatives and exhibitors are participating in the event. Russia, Iran, USA, UK, KSA, Malaysia, Germany, UAE, Belgium, Bhutan and major Indian states including Gujarat, Maharashtra, Karnataka, Tamil Nadu, Punjab, Rajasthan, West Bengal and Jharkhand, among others will showcase new technologies.
During his address as a Chief Guest, Sanjeev Anand, Vice President-Manufacturing, Swaraj Division, Mahindra & Mahindra said that "The focus of the government is on 'Make in India' and taking the GDP forward. In this our foundry production is playing an important role. India is the second largest producer of foundry in the world with around 13-14 million metric tonnes, accounting for 4.5% of the global share.
Highlighting the challenges, Anand said that "with the focus on clean fuel and electric vehicles, the demand for castings may see some deceleration in the auto sectors in the coming times. But, the emphasis on new trains like Vande Bharat will easily compensate for the decline in this. Heavy demand will come from aviation and aerospace sectors. The main challenge of these industries is to train human resources including new engineers and professionals and to adopt new technologies to meet the new challenges. Indian Foundry Congress will solve these challenges. The Congress and Exhibition will deliberate on various dimensions of the industries through Cast India Expo, Cast Source Meet and B2B Meet, CEO Meet, Supply Chain Bazaar (Complete Supply Chain at IFEX for the first time at IFEX).
IIF President Vineet Jain said that India aspires to become a 5 trillion economy and the foundry industry will play an important role in achieving the target. "We are organizing the biggest ever exhibition here to showcase our strength."
During the three-day business meetings (B2B meet), we are expecting to conclude 10 lakh million tonnes of casting buy-sell deals. Hence the 71st IFCs/IFEX is being organized with the main theme of 'Arise, Self-reliant, and Atmanirbhar' in the backdrop of 'Amrit Kaal'.
IFEX 2023 has over 100 exhibitors including 60 leading foundry companies presenting their products and services. Addressing the inaugural session, Carstein Kuhlgatz, President, World Foundrymen's Organization (WFO), said, "India, being a leading casting producing country, has played a significant role in the development of the foundry industry globally. For the growth of the industry, we need to train and empower our member associations, universities, research institutes and companies. Congresses and exhibitions of IIF and WFO are making all out efforts for this.
Highlighting the salient features of the mega show, Pradeep Mittal, Chairman, Organizing Committee, IFC and IFEX, said that Medium and Small Scale Enterprises (MSMEs) constitute more than 80% of the overall industry. In this Union Budget 2023-24, the government has given a boost to the money-starved sector by providing high credit flow and ease of compliance. A modified credit guarantee scheme of Rs 9,000 crore for MSMEs will be launched, allowing additional collateral-free credit of Rs 2 lakh crore to small businesses.
Dinesh Gupta, Secretary, IIF said that the government is focusing on indigenous defense production. "Along with the auto sector, railways and defense are key sectors for us. In the Union Budget, the defense sector has been increased to Rs 5,93,537.64 crore, which is 13.18 percent of the total budget of the Government of India. This growth will also have an impact on the foundry industry."
He said that it will focus on technology development, harmonious cooperation, knowledge sharing, leadership development, capacity building and sustainability. Saurabh Gupta, President, IIF- Northern Region, said that the USD 20.0 billion Indian foundry industry is now on the threshold of doubling its growth rate. "We at IIF are committed to make the Indian foundry industry a casting superpower and global destination for castings."
Cast India Expo, Cast Source Meet, B2B Meetings, Panel Discussion and CEO Meet are the key features of this mega event, which will be addressed by Ministers and senior government officials during the course of three days.