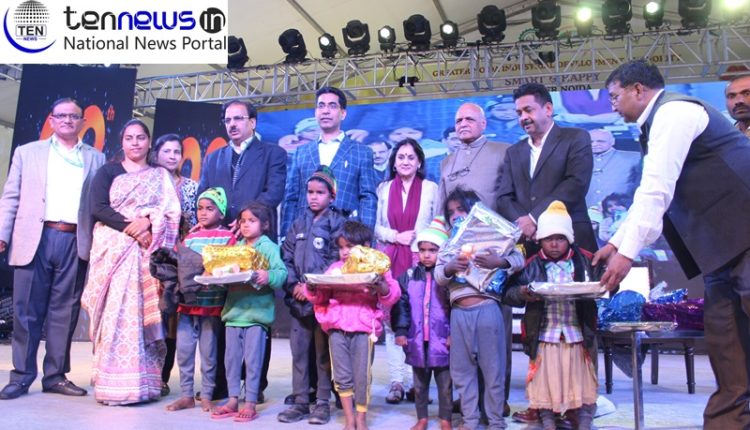 Four-day grand carnival winded up with discussion over how to make Gr Noida a happy and smart city
Saurabh Kumar / Baidyanath Halder / Abhishek Sharma
Greater Noida (28/01/2019) : The four day Grand Celebration of 28th foundation day at City Park came to an end with the distribution of jackets and food to the unprivileged children of the society.
Today's program began with a five-kilometer "Run for Fun" which started from Shaheed Vijay Singh Pathik Sports Complex with a motive to spread a message of India's unity and integrity among the citizens. Vaibhav Krishna SSP GBN and KK Gupta ACEO Greater Noida Authority also participated in Run for Fun along with the school children's and residents of Greater Noida.
Thereafter a seminar on "Smart Cities" was also organized in which the eminent panelist presented their views and a detailed discussion happened. During this seminar, Narendra Bhooshan CEO GNIDA, Rakesh Sharma, Chairman India Expo Mart, Bhagwati Prakash Sharma Vice-Chancellor Gautam Buddha University and Nalini Singh Senior Journalist remained present.
Speaking at the event Bhagwati Prakash Sharma said "Indeed all our endeavors to unfold our smartness through technology have the ambition of enhancing the happiness of our life. Ending poverty is one of the millennium goals under sustainable development goals. And for doing this at least in Greater Noida I would suggest CEO Greater Noida Authority and all the CEO' s setting here to develop an industrial consortium."
Apart from this he also touched every aspect like what needed to do for maintaining the ecological balance of the city. He talked about Artificial Intelligence, Intelligence design theory, Smart management of Cosmos. He also requested CEO GNIDA to develop a Happiness Studio in Greater Noida and also said that Greater Noida is an example prime maneuver of smartness.
While interacting with Ten News Narendra Bhooshan said "With its 28th birthday Greater Noida City is approaching to its adulthood. And I think when the farmers had given their motherland for this city what they have thought at that time has got fulfilled. I would also like to get suggestion apart from complaints that how this city can be made more magnificent and what the sectors we are lacking behind and how it can be achieved.
He also applauded the efforts made by Monika. Chaturvedi, Deputy GM finance department for the unprivileged children's who were found wandering near GNIDA office during Republic Day Celebration on 26th January. The carnival concluded with the vote of then by ACEO K K Gupta.
Photo highlights of Fourth day celebration of 28th foundation day of Greater Noida Authority at City Park