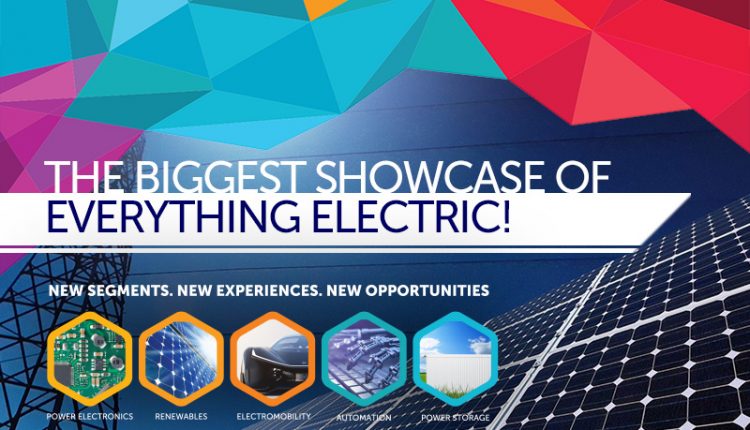 #FutureIsElectric : Elecrama 2018 to focus on ETechnxt, first of its kind HuMachine to be exhibited!
Ashish Kedia
(05/03/2018) New Delhi :
The biggest showcase of the world of electricity, Elecrama 2018 is round the corner and will be taking place at India Expo Mart, Greater Noida between 10th to 14th March 2018. The event is happening for the first time in Uttar Pradesh and will be focusing extensively on renewable energy resources, digitisation of power grid, E Transport, Storage system, HuMachine, IOT, Digital delivery of electricity, wearable energy storage among other things.
ETechnext Pavilion enhances excitement
Elecrama's 2018 will be exhibiting first of its kind HuMachine, the future of human and machine interplay at ETechnext pavilion of the expo. With the kind of sneak-peek details that have been revealed by the organizers about this innovative concept, the excitement is already at its pinnacle among the industry professionals to experience it in reality.
Talking of the ETechNext Pavillion at Elecrama 2018, Chairman Vijay Karia recently tweeted, "The ETechnxt pavilion at Elecrama is a place where one can spend an entire day. Learning and experiencing. Humachine is something we are very excited to showcase.
Another exciting offering of Elecrama 2018 will be the announcement of the arrival of self-forming material. With the theme of 'Be There Where No One Has Been Before", HuMachine is expected to dominate the conversation of world electrical domain during the mega expo of 2018.
In entirety eTechNxT–The Electrical & Electronics Industry's Pathfinder will focus on how to innovate, transform and grow.
Getting ready for Electric revolution:
Coincidently ELECRAMA 2018 is being organized at the same venue where Auto Expo 2018 was recently held. Electric mobility was one of the main focus areas of this year's mega auto expo, where almost all automobile manufacturers either launched or showcased electric vehicles in different segments. Now with ELECRAMA 2018, electric and electronics world will showcase the infrastructure technologies required to support electric mobility in the country. Industry veterans are expecting that by 2030 India will be a 100% EV country and hence a tectonic shift in the electric mobility segment remains evident.
Elecrama 2018 is also focusing prominently on the renewable energy sources with a dedicated renewables pavilion. It is being projected that by 2030, wind and solar will be the mainstream source of power.
Mobile App for Visitors
For the ease of visitors Elecrama has also launched mobile app which will have all the latest updates of the event being accessible on the go. The application has already been launched and can be downloaded from the playstore to get first-hand information about this upcoming exhibition.