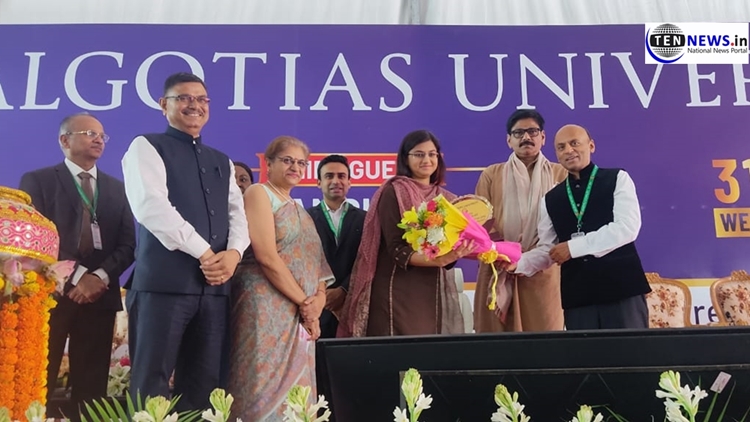 Galgotias University Honors UPSC CSE 2022 Toppers for Remarkable Achievement
Ten News Network

Noida, May 31, 2023: Galgotias University hosted the prestigious International Conference on Innovations in Technology and Management on Wednesday, attracting a distinguished gathering of guests, including Anandiben Patel, the governor of Uttar Pradesh.
The conference also provided an opportunity to honor the achievements of two top performers in the UPSC CSE 2022. Gauri Prabhat, daughter of IAS Prabhat Kumar, secured an impressive All India Rank (AIR) of 47, while Tanmay Khanna secured AIR 61.
Expressing her gratitude, Gauri Prabhat highlighted the role played by the university in her journey and shared her key preparation tips with upcoming aspirants.
She emphasised the role that her ambition, dedication and 'firm resolve to serve her nation' played in helping her get through the challenging times of the process. She added that her dedication and firm resolve to serve society through IAS examination comes through the environment provided to her with encouraged 'selfless service to others with integrity.' Her inspiration was her parents and how much they could achieve and give back to society.
Tanmay, in turn, began by extending a vote of thanks to the university, where he connected the process of self-discovery to technological outsourcing.
He emphasised that his belief in himself and his resilience, commitment, and strategising helped him crack the all-important examination.
Established in 2011, the university offers and specialises in providing an effective ecosystem for learning, quality academics, research, innovation and learning.