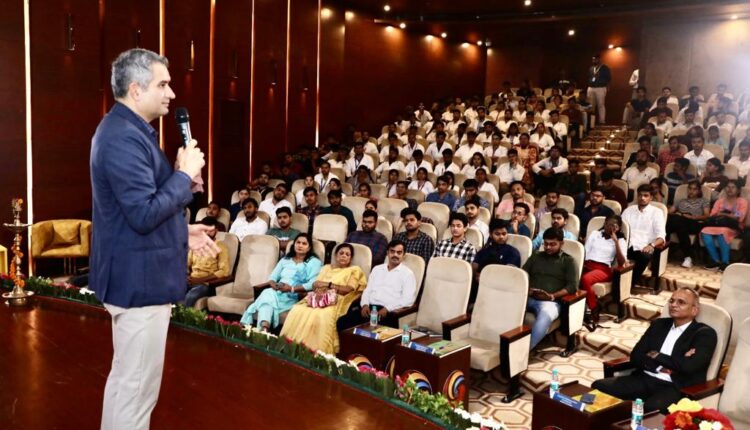 Galgotias University organizes "Amrit Kal Research/Development Seminar"
TEN NEWS NETWORK

Galgotias University organized the "Amrit Kal Research/Development Seminar" on the campus as per the directives of the Government of India.
Prashant Tandon, founder and CEO of Tata 1 MG, graced the event as the chief guest. While addressing the students, he stated that the government's intention vision is to have a strong foundation as India approaches 100 years of independence. The government is currently focusing on formulating policies. He also mentioned that our present generation is transiting through the era of Amrit Kal (Golden Era). He emphasized that global macroeconomic scale is currently favoring India, and the rebalancing of the global economy has opened many opportunities in the Indian market. In response to one of the student's question, he said that one should never be discouraged by failures instead one should view them as opportunities for deep learning and creativity.
The Vice-Chancellor of Galgotias University, Professor Dr. K. Mallikarjun Babu, explained that the primary goal for India is to emerge as a developed nation in the next 25 years, as envisioned by the Government of India and the Uttar Pradesh Government.
Sunil Galgotia, Chancellor of Galgotias University, stated that the Indian government's dream is to provide ample opportunities to every citizen, especially the youth, under the economic agenda in the near future. Special attention will be given to development and job creation, strengthening macro-economic stability, empowering women economically, encouraging traditional artisans and craftsmen, utilizing the vast potential of tourism, and prioritizing sustainable development. Fuel, energy, agriculture, mobility, construction, and equipment are all included in green development.
Dr. Dhruv Galgotia, CEO of Galgotias University, mentioned in his expression that India will become a developed nation in the next 25 years. He stated that India's goal is to incorporate environmental considerations along with agricultural development during this Amrit Kal era.
It is evident from these priorities that inclusive development of all, may it be farmers, women, youth, backward classes, scheduled castes, scheduled tribes, differently-abled individuals, and economically weaker sections, will be ensured in the developed nation of the next 25 years. Moreover, there will be a focus on development in every sector, whether it is the economic sector or has a socio-cultural significance.
The government believes that the contribution of the youth will be the most crucial in making India a superpower by 2047. To achieve this, economic policies that assist in creating large-scale employment and business opportunities will be adopted in the future.