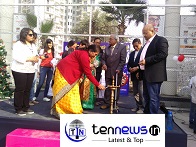 Gauravv Mittal lead IT Company ITCONS celebrated Christmas with over 200 Slum kids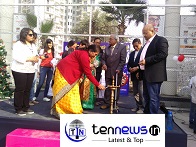 Gauravv Mittal lead IT Company ITCONS celebrated Christmas with over 200 Slum kids
​Uttar Pradesh,18th December 2016: More than 200 slum kids where present to grace the fund raiser event organized by Gauravv Mittal, CEO ITCONS e-Solutions Pvt at India Habitat Centre (IHC), Indirapuram on the occasion of Christmas accompanied by his son Adit Mittal, who is nominated as CSR office of ITCONS; He is the Youngest CSR (Corporate Social Responsibility) Officer of Corporate world. This year, he is being awarded and honored with "Karmaveer Chakra Award" for his contributions to the society, just being 12 year old, taking up this social initiative to help the needy; along with extending financial/material support from the organization, ITCONS e-Solutions Pvt. Ltd supporte slum kids studying in NGO Sanchay – Lets Nurture Dreams, Indirapuram, Uttar Pradesh.
Every year during Christmas and other festivals, ITCONS e-Solutions Pvt Ltd Support 200 hundreds of kids. They celebrate some festivals with them by arranging some cultural programs along with distributing of clothes, essentials, food items. ITCONS e-Solutions Pvt also adopt these kids/Parents by sponsoring their educations or food items etc.
​This ye​
The event began with Music concert accompanied by Drawing and dance completion for kids. Aditya Mittal playing Guitar for the kids and other live cultural programs by professionals where performed at ground floor, India Habitat Centre (IHC), Indirapuram.
MahhaGuru – Gauravv Mittal says "I am a first generation entrepreneur. GOD has always been kind and by my side; I did not see much of hardships in life. I see, not everyone is so blessed; life is not so smooth, Especially for those poor kids, who lose their parents in early age; old aged parents who are thrown out of home by their kids when the wanted their compassion, love and support in all aspects. I am happy to see Adit's inclination towards such kind of social causes from the childhood itself. It feels really good when people say "Son is on his father's way". I and Adit's mother Swati have a wish start one old age home and one orphanage at least in every possible city of India to support such kids/parents. Soon we are coming up with an NGO named 'Sparkle', whose sole moto will be to raise funds from various organizations; support the orphanages/ Old age homes and make them self- sustainable in 18 months."