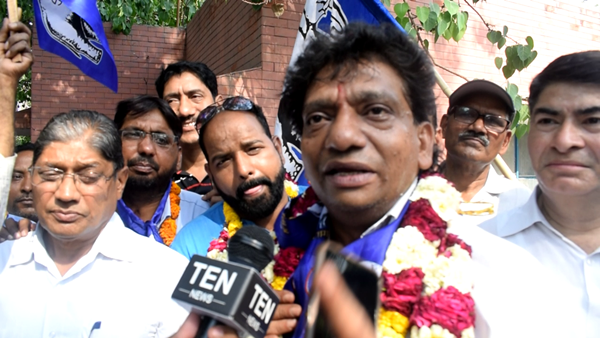 Gautam Gambhir does even know BJP Full Form? Asks Sanjay Gehlot, BSP's Lok Sabha Candidate from East Delhi
PRERIT CHAUHAN/ JITENDDER PAL- TEN NEWS
New Delhi: (23/04/2019) Bahujan Samaj Party's Sanjay Gehlot , filed his nomination from the East Delhi parliamentary constituency on Tuesday. Earlier The party had already made sanitation worker Sanjay Gehlot, head of the MCD Swachhta Karamchari Union, in charge of East Delhi.
BSP is contesting all seven seats in Delhi.
While the party is part of the 'grand alliance' in other states, it has decided not to ally with AAP or Congress in Delhi.
Sanjay Gehlot will be pitted against BJP candidate Gautam Gambhir, Congress Arvinder Singh Lovely and Aam Aadmi Party's Atishi.
Speaking to Ten News after Filing his Nomination, Gehlot said,
"It's a very crucial time for us because nobody is there to listen our problems. All the parties don't want to listen to our problems like BJP, Congress or Aam Aadmi Party. I have worked for MCD Previously and I have resigned from there. If I talk about our personal problems we were not getting salary for 6 months. We went to Kejriwal to solve our problems but even after high court order they didn't dob anything."
Targeting Ex-cricketer and BJP's Candidate From East Delhi, Gautam Gambhir, Gehlot said, He doesn't even know what's the full form of BJP. Even the Full Form of RSS."