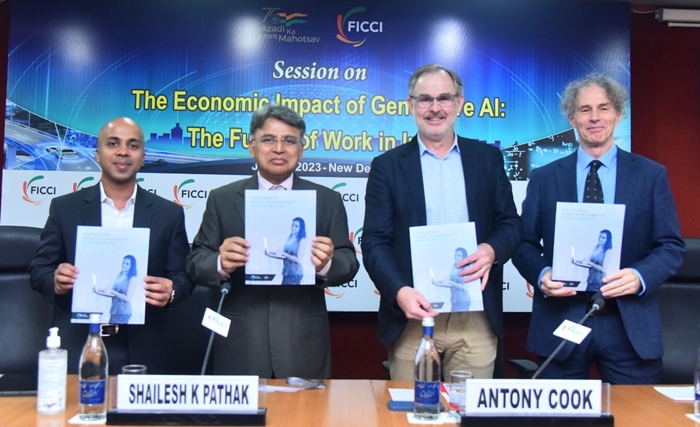 New Delhi, India – June 08, 2023: A new report by FICCI and Access Partnership reveals that Generative AI could potentially unlock $621 billion of productive capacity in India, equivalent to nearly one-fifth of the country's GDP in 2021. The report, titled "The Economic Impact of Generative AI: The Future of Work in India," highlights the transformative potential of AI in driving economic growth and development at scale in India. 
Commenting on the report, the Secretary General of FICCI, Shailesh Pathak, noted, "India is at an inflexion point with AI. With powerful new models like generative AI being introduced, we are seeing innovative applications being used across society, capturing consumers' imaginations." He added, "This is an opportunity for India to position its businesses and workers better to unlock the potential of generative AI, as well as manage emerging risks." 
The report indicates that the Manufacturing and Wholesale and Retail Trade sectors could contribute more than half (55%) of the potential economy-wide gains from implementing generative AI. These industries comprise a large share of the local workforce and account for high labour productivity. Almost half (45%) of workers in India will potentially use generative AI for between 5-20% of their regular work activities. 
On the occasion, Antony Cook, Corporate Vice President and Deputy General Counsel, Microsoft, shared his views on how AI technologies can empower individuals and enhance efficiency by automating repetitive and mundane tasks, allowing them to allocate more time and energy to complex problem-solving, unleashing creativity & accelerating new discoveries and innovation.
The report highlights the successful integration of AI tools into existing operations by top players in the IT sector in India, such as Tata Consultancy Services (TCS), Infosys, Accenture, and Tech Mahindra. For instance, TCS is building a Chat-GPT style solution for automated code generation, content creation, copywriting, and marketing, while Tech Mahindra's AI-powered Smart Assistant has achieved a 90% increase in data accuracy and a 60% reduction in human effort. 
The report also highlights the growing use of generative AI tools among freelancers and solopreneurs in India for productivity and scalability. A survey by Refrens, a Bangalore-based platform, found that 47% of over 1,600 freelancers regularly use generative AI tools, with over 50% reporting increased productivity. Early adopters include software developers, marketing consultants, and content creators. 
However, to capture the economic opportunities that generative AI presents, the report emphasises the need to equip the workforce with future-ready skills. It includes improving digital literacy and AI aptitude, the ability to operate in an AI environment and leveraging AI tools. 
The report also presents a framework of recommendations for government and business leaders, focusing on three main policy objectives: increasing access and adoption, mitigating risks, and inspiring innovation. 
"Government should build on existing digital literacy programs and promote generative AI-specific skills through reskilling and upskilling initiatives aimed at different population segments including women, youths, and mid/late-career workers to facilitate adoption and effective use of generative AI technologies and ensure a fair transition for workers at all levels," Peter Lovelock, Head of Fair Tech Policy, Access Partnership said. "Furthermore, the government should consider adopting responsible and ethical AI principles at the national level to address unintended consequences such as misinformation, discrimination, bias and malicious use and support businesses to implement it." 
Kanishka Agiwal, Co-Chairman, AI and Digital Transformation Committee, FICCI and Head – Service Lines, Public Sector, India/South Asia, Amazon Web Services, stated, "To capture the abundant economic opportunities that generative AI could unlock, a coordinated effort will be necessary to prepare for its widespread adoption. It will require multiple stakeholders, from government, industry, academia, civil society, and the broader community to engage in leveraging generative AI best and managing its risks". 
In his Special Address, Dr Rajeev Sharma, Scientist F, Frontier and Futuristic Technologies (FFT) Division, Department of Science and Technology, underlined that Generative AI acts as a catalyst for economic growth, stimulating entrepreneurship, job creation and fostering a vibrant set up the startup ecosystem. "India witnessed a 12 per cent increase in the number of AI startups in 2021. With many leveraging Generative AI to develop innovative solutions in areas such as e-commerce, healthcare, and fintech."