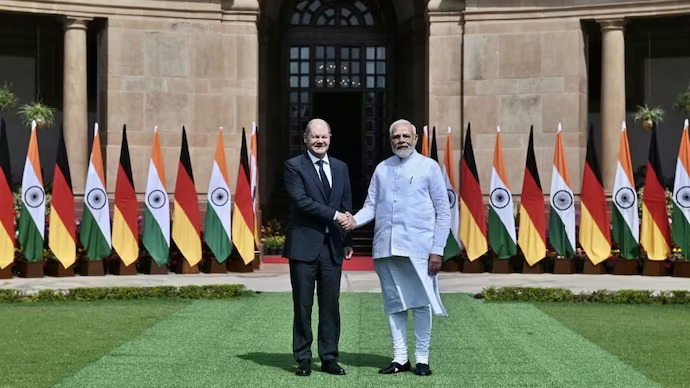 German Chancellor visits India to expand bilateral relations, discusses Ukraine conflict
Ten News Network
Delhi (India), February 25, 2023: German Chancellor Olaf Scholz arrived in India on Saturday for a two-day visit aimed at expanding bilateral relations between the two countries.

During his trip, Scholz is expected to hold extensive talks with Indian Prime Minister Narendra Modi on a range of issues, including new technologies, clean energy, trade, and investment.
According to sources, the consequences of the ongoing Russia-Ukraine conflict are expected to figure prominently during the discussions. The two leaders are also expected to discuss the overall situation in the Indo-Pacific region, where China's growing assertiveness has been a major concern for both India and Germany.
This is Scholz's first visit to India since becoming the German Chancellor in December 2021, succeeding Angela Merkel, who held the post for 16 years. The two leaders have previously held bilateral talks on the sidelines of the G20 summit in Bali last year, as well as during Modi's visit to Berlin for the sixth India-Germany Inter-Governmental Consultations.
India and Germany have seen their ties improve in recent years, with increased cooperation in trade, defense, clean energy, climate change, and technology. After his talks with Modi, Scholz is scheduled to visit Bengaluru before departing for Germany on Sunday evening.