Get immersed in immaculate flurry of dance, drama and poetry only at Sabrang 2018@ BIMTECH, read on to know more details!
Ten News Network
(Greater Noida) :
The season of festival has begun in North India with the arrival of elephant headed God Ganesha, and will last upto Diwali. However for Greater Noida the celebrations are going to be much extended than ever with a sumptuous Bonanza of cultural and entertaining line-up of festivities.
Starting September, 29, Birla Institute of Management Technology, Greater Noida is going to organize a one week long foundation day celebration. The grand extravaganza will witness  prominent artists from diversified fields of art and culture, coming together at institutes Knowledge park campus to give the spectators a once in a life time opportunity to become part of something special.
To know more details of the upcoming event, Ten News on Thursday spoke to BIMTECH Director and renowned educationist Dr. Harivansh Chaturvedi.
Sharing details of the week long celebrations, Dr. H Chaturvedi said, "Since last few years we have been celebrating our foundation day with much joy and fervour.  During this festival we take pride in inviting all nearby residents from Noida and Greater Noida because BIMTECH wishes to connect with its neighbourhood community. This year we are organizing a one week long event- Sabrang Mahotsav. There would be Quawaali, Drama, Kathak dance, Poetry among other things. The event will begin from 29th September with a lively adoption of Ramleela play by Agra based Ranglok theatre group. Thereafter internationally renowned Ashmita group will present 'Pagdi Sambhal Jatta' play on 30th September and on 1st October the same group will enthrall the audience with an innovative play titled Gandhi @Godse.com. This play depicts an imaginative conversation between Gandhi and Godse".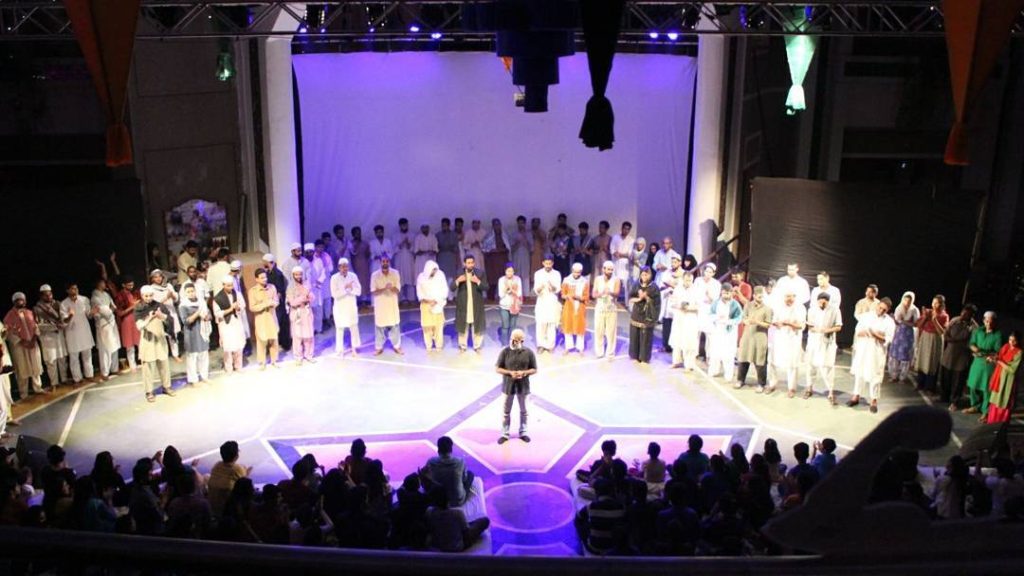 The event will also witness a motivational talk and a Kavi Sammelan, speaking of which the institute's director added, "On 2nd October we will have our foundation day in which Former CEO of Boston Consulting Group Arun Mehra will be the chief guest. He is a well-known economist, a great writer-orator and also has been a member of planning commission. On the same day we will also have a community lunch in which about 1,500 people are expected to take part. The 7 day long extravaganza will culminate with a grand Poetic meet or Kavi Sammelan in the presence of eminent poet Rahat Indori. We will also invite our alumni members from NCR region, friends from industries and academia to join us in these events".
This year, BIMTECH's foundation day is coinciding with the 150th Birth Anniversary of Mahatma Gandhi. The legendary connect between Birla's and Gandhi is a well-known fact among masses and the impeccable moral values and ethics of father of the nation remain an integral part of Birla legacy.
On being asked about any special plan to commemorate this occasion, Dr. Chaturvedi says, "On 2nd October whenever we celebrate our foundation day, we never forget to acknowledge the shared history of Birla's and Gandhi. It is a day for us of reflection, introspection and contemplation. We have to understand that to take this country forward we need to move on the path shown by Mahatma Gandhi. This being the 150th Birth anniversary of Gandhi ji, we will be organizing year long seminars and events to revisit the Gandhian philosophy and inculcate his values and teachings among our students. The events of Sabrang Mahotsav will have a distinct theme and connect with Mahatma and his life and teachings will be an integral part of it".
Sabrang Utsav brings diversified talents together and also exhibits a bouquet of Indian culture in form of various artistic performances.
Further being questioned about impact of such events over the modern generation of tech-savy students, Dr. Chaturvedi eloquently says, " BIMTECH as an educational institution emphasizes extensively on culture and tradition. We have a lot of clubs which promote cultural heritage of the country. We have a Majlis conduit which promotes literature and drama, apart from this we have over a dozen clubs and conduits to organize different events from diversified fields. Our students come from all over India and we try that all events also showcase the composite culture of India. We respect all religion and this unity in diversity is practiced in totality in our campus. We celebrate all festivals of all religion and teach our students to respect all religion and diversity of every type. We encourage everyone to understand each other's culture and traditions".
A doyen of higher education, BIMTECH Director Dr. H Chaturvedi also extended a happy invitation to all members of society to come and become part of these celebrations at Greater Noida.
BIMTECH Director said, "We believe in inclusion or inclusive development and it is part of our vision. Keeping it in mind we want everyone to be part of our celebrations. We will be formally inviting students, teachers and deans from different academic institutes of Greater Noida. I also take this opportunity to invite all members of society to come join us in these celebrations which isn't only BIMTECH's foundation day but is also marking the 150th Birth anniversary of Mahatma Gandhi. Sabrang in true spirit and sense is an inclusive festival of all and for all, so it's a festival of Greater Noida".
So mark you calendars and get ready to witness the varied performances and cultural activities only at Birla Institute of Management Technology, Greater Noida.