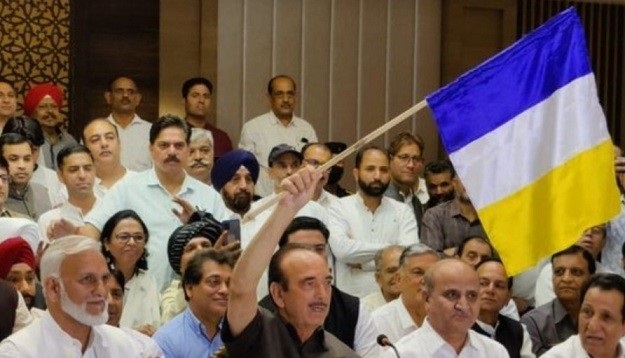 Ghulam Nabi Azad announces name of his new party

Ten News Network
Kashmir, Sept 26th,2022: Former J&K Chief Minister Ghulam Nabi Azad on Monday announced that his new political outfit will be called Democratic Azad Party.
The development comes exactly a month after Azad resigned from the Congress party.
Announcing the name of the new party at a press conference in J&K, Azad said that the outfit will be secular, democratic, and independent from any influence.
Speaking about the party name, Azad said that around 1,500 suggestions in different languages such as Urdu, Sanskrit, and Hindi were sent to him. "The mix of Hindi and Urdu is Hindustani. We wanted the name to be peaceful, democratic, and independent", he said.
He also held a meeting on Sunday with his party workers and followers to discuss the same. Azad also unveiled the flag of the Democratic Azad Party. The flag has three colors – mustard, white and blue.
The first unit of his party will be formed in Azad's home state, Jammu & Kashmir. He stated that the party will focus on the restoration of full statehood, right to land, and employment to native domicile.