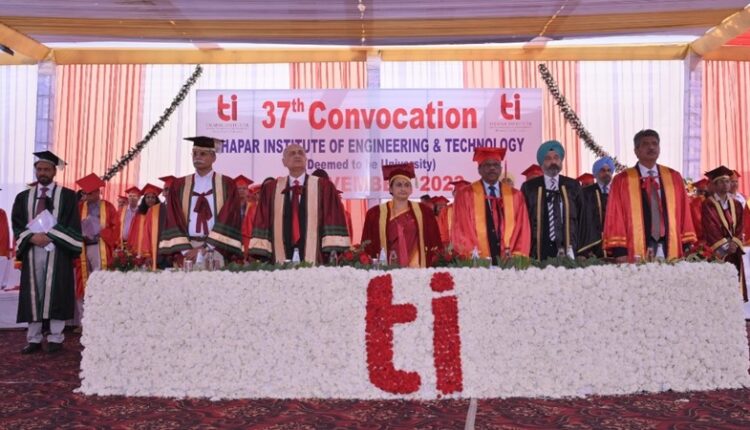 By Bipin Sharma
New Delhi (07/11/2023): The 37th Convocation of Thapar Institute of Engineering & Technology (TIET), Patiala was held on November 6, 2023.
Smt. Meeta Rajivlochan, IAS, Secretary, Government of India, Ministry of Youth Affairs & Sports was the Guest of Honour of the Convocation. Tarun Kapoor, student of 1979-83 batch of the Institute was awarded Distinguished Alumnus Award.
The Distinguished Alumnus Award was conferred on Robin Raina, student of 1985-90 batch of the Institute.
At this Convocation, a total of 3039 degrees were awarded to the students which includes 2406 BE/B.Tech /BBA/BA, 26 BEMBA, 102 Ph.D., 152 ME / M.Tech, 81 M.Sc., 50 MCA, 31 MA, 188 MBA, 2 B.Sc., 1 PG diploma degrees. These degrees cover a wide range of disciplines and specialization offered in the various Engineering / Sciences / Management / Social Sciences / Humanities and Arts.
During this Convocation, a total of 41 students received medals / awards for their outstanding and meritorious academic, scholastic and all-around performance.
Snehil Mittal, who achieved the highest position among successful candidates in all fields of the final year BE/B.Tech examination with a CGPA of 9.98, received the Presidents' Medal for the academic year 2022-2023.
Ms. Jappreet Kaur was honoured with the S. Ranbir Singh Gold Medal as the All Round Best Student for the year 2022-2023.
Snehil Mittal was the recipient of the Prof. V. Rajaraman Computer Science/ Engineering Award for the year 2022-2023. Puneet Singh was presented with the S. Ram S. Sidhu Memorial Medal for the year 2022-2023.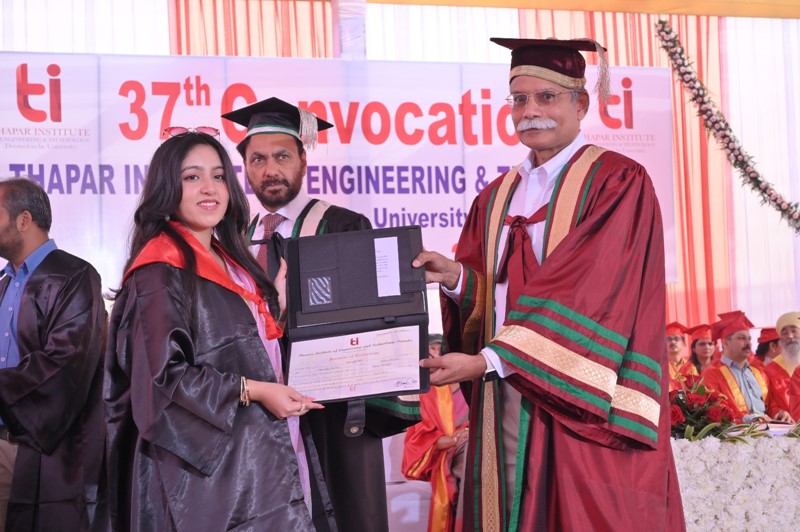 Besides this, meritorious students from each program were awarded medals for securing first position in their respective branches for various programs.
Dr. Padmakumar Nair, Director of Thapar Institute of Engineering & Technology, Patiala, congratulated the degree recipients and delivered the Institute's Annual Report. During his presentation, he emphasized the key statistics showcasing the Institute's annual accomplishments.
Dr Padmakumar Nair, Director TIET informed, "TIET continues to be ranked high in all global and Indian rankings especially in the subject rankings for computer science and engineering. We continue to hold our high Indian rank as reflected in the 2023 NIRF Rankings where we were placed at the 20th position amongst the top engineering institutions in the country. We were ranked 22nd among all Universities in India. Eligible undergraduate programs at Thapar Institute are accredited National Board of Accreditation (NBA) India & ABET. Rated amongst the top ranked innovation-driven private universities and technical institutes in the country, Thapar Institute of Engineering & Technology has been accredited with an 'A+' grade by the National Assessment and Accreditation Council (NAAC). The number of student seeking admission in various streams of Engineering have constantly grown in numbers every year, clearly indicating the trust and craze for 'Brand Thapar'."
Mr. Rajeev Ranjan Vederah, Chairman of the Board of Governors commended these achievements, noting that this comprehensive performance is a natural result of Thapar Institute's exceptional research-driven and experiential curriculum.
Speaking on the occasion, Mr R R Vederah, Chairman, Board of Governors said, "Having come into existence seven decades ago in the year 1956, Thapar Institute of Engineering & Technology (TIET), Patiala (Deemed University) is undoubtedly one of the most sought after Engineering Institutes of the country today. The name "Thapar" owing to its rich legacy has become a big Brand, and this explains why students from all parts of the country make a beeline to get enrolled in this prestigious institute. A protagonist in the field of engineering education, research and innovation, it is a multidisciplinary, research university that has perpetually boasted of world class education, best faculty (both doctorate and post doctorate) from some of the top institutions of the country, state of the art infrastructure, and excellent hostel facilities. Housed in a sprawling green campus comprising more than 250 acres in the historical city of Patiala, TIET proffers colossal potential for development of indigenous technology and its transfer to various engineering industries. Combination of all the above mentioned USPs and the fact that the Institute entwines experience with new-age implementation has led to TIET carving an enviable niche for itself in the last 67 years of its genesis. The Alumni's of TIET have brought laurels to their Alma Mater by becoming cutting edge technology leaders, and by accomplishing milestones in their respective careers on the global level. The TIET Alumni are all over the globe having made a mark for themselves in the fields of business and industry, administrative and regulatory services, research and education, and social and human rights organisations. TIET is a name to reckon for students from all destinations of the world as it offers multifarious courses and has outstanding campus placements with top companies visiting the Institute on a regular basis for employing fresh graduates. The curriculum is designed to ensure the all-round development of each student."
Dr Ajay Batish, Deputy Director, TIET shared, "Thapar Institute collaborates with over 400 multi-national companies that visit us to hire almost all our students with attractive salary packages. All eligible students are placed through our placement cell. TIET has forged strong linkages with industry to impart a practical dimension to technical training. Research at TIET is at the apex of the institute's long-term strategic plan. Research and innovation have facilitated academic collaborations with some of the leading universities of the world such as Trinity College Dublin, University of Queensland, Virginia Tech, Tel Aviv University, University of New South Wales besides many others. Thapar Institute has holistic tie ups with 6 top world universities and MoUs with over 35 institutions, industrial and corporate organizations. All the technology and science programs have established advanced research facilities."