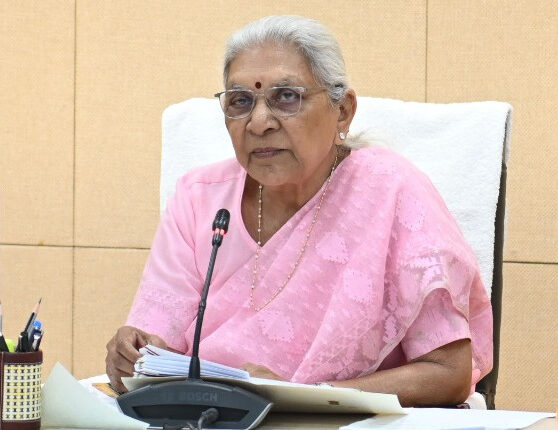 Governor Anandiben Patel lauds Galgotias University for NAAC A+ ranking, addresses Int'nl seminar on Tech Innovations
TEN NEWS NETWORK

New Delhi (India), May 31: Galgotias University organized a two-day international seminar on the subject of "Technological Innovations and Management." The seminar was attended by distinguished guests from all different walks of life including the Governor of Uttar Pradesh, Anandiben Patel, High Commissioner of Maldives, Ibrahim Sahib, High Commissioner of Seychelles, Harissoa Lalatiana Akoché, High Commissioner of South Sudan, Victoria Samuel Aru, Deputy High Commissioner of Zimbabwe, Peter Hobwani, High Commissioner of Uganda, Prof Joyes Kakuramatsi Kikaafunda, Gambia High Commissioner, Lamin Singhateh, Jewar MLA Dhirendra Singh, Chancellor Sunil Galgotia, CEO Dhruv Galgotia, among others.
The program commenced with the lighting of lamp and Saraswati Vandana by the dignitaries.
In his welcome address, Vice Chancellor Prof. (Dr.) K. Mallikarjun Babu of Galgotias University stated that the university is continuously reaching new heights. "It is a matter of pride for us because that there are students selected in the UPSC examinations, who are also associated with Galgotias University," he added.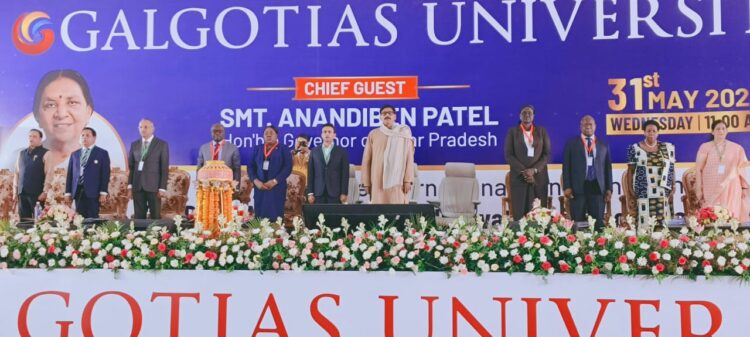 Chancellor Sunil Galgotia, in his speech, expressed gratitude to the Governor of Uttar Pradesh, Anandiben Patel, and the ambassadors from India and abroad for visiting our university. "Our university is consistently striving to fulfill Prime Minister Narendra Modi's vision of "Making India a Global Leader," he outlined.
Chancellor Advisor Prof Renu Luthra welcomed the audience and discussed how technology helped our country overcome the challenges of COVID-19. She emphasized the need for collaboration and teamwork.
During her address, Governor Anandiben Patel, spoke about the relevance of innovation in primary education, healthcare services, and the field of education, emphasising the need to constantly innovate in these areas. She highlighted the continuous success achieved in these areas and emphasised that technology and innovation should serve the welfare of the society. She mentioned the ranking of all universities in Uttar Pradesh and congratulated Chancellor Sunil Galgotia and CEO Dhruv Galgotia for the "A+" ranking achieved by Galgotias University. She further expressed her hope for expansion through signing MOUs with diplomats from various countries. She discussed the concept of "One Nation, One Ration" and how the Jan Dhan accounts directly transfer funds to the accounts of the poor. She also touched upon the role of technology in empowering ourselves to make significant contributions in the field of economics.
MLA Dhirendra Singh Jevvar, Sunil Galgotia, and Dhruv Galgotia presented mementos to all the diplomats. They also honored the women workers of the area by presenting them with gifts. At the culmination of the event, the Secretary of Galgotias University expressed gratitude to all the guests present and assured them of full compliance with the instructions given by.
The session was moderated by Prof. Anamika Pandey, and the program was coordinated by Dr. Shivani Kapoor. Faculty members and students of the university were also present at the seminar.
Director of Operations Aradhana Galgotia, Vice-Chancellor Prof. (Dr.) K. Mallikarjun Babu, Chancellor Advisor Prof. Renu Luthra, Deputy Vice-Chancellor Prof. Avdhesh Kumar, Secretary Dr. Nitin Gaur, and other faculty members also attended the event.