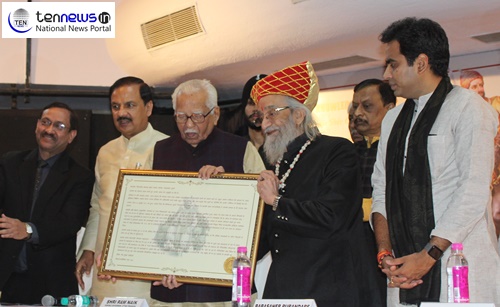 Governor Ram Naik honours Historian Shivshahir Babasaheb Purandare, requests for organizing Mega play "Jaanta Raja" in UP
VIDEO/PHOTO- JITENDER PAL
STORY BY – ASHISH KEDIYA
Under the aegis of MOTHERLAND INTERNATIONAL FOUNDATION the Renowned historian and biographer SHIVSHAHIR BABASAHEB PURANDARE was facilitated by Ram Naik, Governor of Uttar Pradesh , at Indira Gandhi Kala Kendra, Noida, on 29-March -2018 .
On this occasion Dr. Mahesh Sharma, Central Minister, presided the function and Pankaj Singh, MLA and MLA Tejpal Nagar were guest of honour.
In this program the associate partner of Motherland International foundation were Noida entrepreneurs Association (NEA), Pravasi Mahasangh, Bharat Vikas Parishad, Mangalmay Parivar, Federation of Noida Resident's Welfare Association (FONRWA) and the Eminent. Other several supported the event including Trust Dera Shriman Sant Singh from Haryana.
Motherland International Foundation was represented by its Chairman Dr. A K Agarwal and Vice- Chairman Mr. Rajesh Yadav in addition to other office bearers. In this program the highlights had been the narration on the life of Chhatrapati Shivaji Maharaj who was born on 19th- February-1630 and died on 3rd- April- 1680.
All speakers narrated the administrative ability of Shivaji Maharaj his vision, magnanimity, Anti Nepotism in governance, Administrative wisdom, Intelligence network, Zero tolerance towards corruption, Financial stability, environment and Justice.
Organizer of Raja Shiv Chhatrapati Mahanatya Ayojan Samiti narrated the background of the program which will conducted at Red Fort Delhi from 6th to 10thApril 2018.
With an aim to perpetuate the greatness of Shivaji Maharaj in the people's mind, Pune's Shiv Shahir Babasaheb Purandar wrote his biography in "Marathi" and later converted it into a drama.
This Grand drama considered, Asia's biggest and world second biggest, will be now staged in Hindi at LAL QUILA, New Delhi on 6 to 10- April -2018.
An imposing four-storey stage, live music, about 250 artists, elephants and horses transport the audience majestically into Shivaji's era will be erracted.
This Epic drama teaches the importance of "Rashtra Dharma " and make us religious, our duty towards the society.
On behalf of motherland international foundation and organising committee Mr. Rajesh Yadav, Vice Chairman of Motherland and former RSS Pracharak thanked all the Hon'ble guests to grace the function and requested all the guests to kindly see the Epic drama live at Red Fort.
Speaking on the occasion Governor Ram Naik said, "India is a fortunate land where a lot many great individuals have been born. Today is the birth anniversary of one such God Mahavir and I am delighted to be here on such important day".
He further added, "ShivSahi Purandare has researched in great length to write on Shivaji Maharaj. I know him from last 65 years since time when I was a student of B.Com in Pune where I first got to hear him at an RSS program".
He also narrated an interesting but less known event from Shivaji's life and said, "When Aurangzeb invited Shivaji for the meeting, he kept the length of gates low so that Shivaji has to bend. However the great long only forwarded his leg, so that Shivaji only got to see it first and failed in his motive".