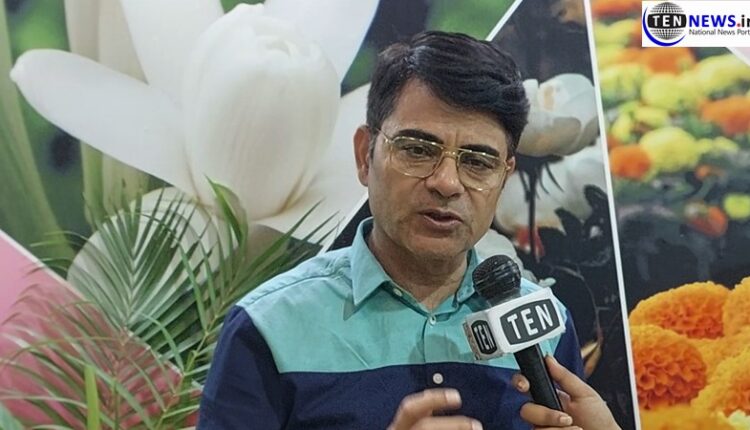 Govt is meticulously helping farmers to get into organic farming: Director APEDA at Biofach India | India Expo Mart
Ten News Network
Greater Noida, Sept, 2022: Biofach India 2022 is the leading Trade Fair for the Organic Industry in India that is being organized by NürnbergMesse India at the India Expo Center & Mart from 1st to 3rd September 2022.

The event is being held under the aegis of the Agricultural & Processed Food Products Export Development Authority (APEDA), Ministry of Commerce and Industry, Government of India and would aim to connect all the key players from the Organic and Natural Industry on a single platform.
In a conversation with Ten News, the Director of APEDA, Dr. Tarun Bajaj outlined the growing trend of organic farming and the government initiatives that have been taken to promote it.
Speaking about the policies and initiatives created by the Government of India, Bajaj notes that the demand for organic products had increased in the past few years after which the 'National Program for Organic Production' was launched by PM Vajpayee in 2001.
"Soon after we organized expos and events to encourage the greater production of organic substances", he said.
He further added that farmers were able to obtain the certification of 'organic' which helped boost their trade as well.
Bajaj remarked that India exported organic products worth 1 billion dollars to different parts of the world in the past year alone.
When asked about the promotions of such expos aimed at the organic industry, Bajaj replies that manufacturers and farmers are able to obtain the tag of "organic" due to the efforts of the government which helps to increase trade and the economy.
He also adds that India is in constant contact with other countries regarding the supply and development of such products due to which these expos are highly appreciated.
Lauding the efforts of the government, he says "The Ministry of Agriculture is constantly helping the farmers in every step of the way and supports them in the production of organic food".
Talking about the response of people towards organic products, Bajaj remarks that the domestic market is growing very fast and with every passing day, people are more invested in their health.
Shedding light on the steps taken to increase the organic production of food in India, Bajaj says that information is being released to people every day and business opportunities for them are always emerging.