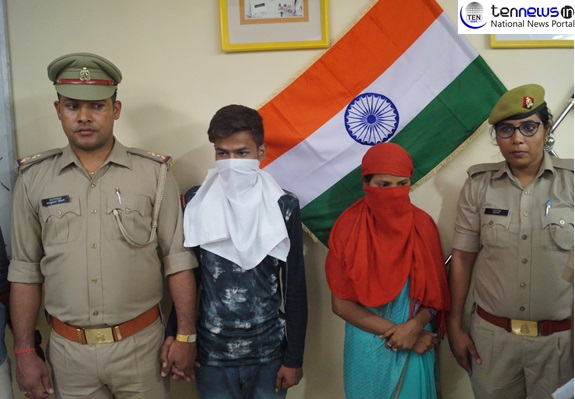 Greater Noida : Wife kills husband with help of young lover, alleges of inhumane torture by electric shocks
Saurabh Kumar
Today Greater Noida police had arrested a boy and women who both have been charged with murder and conspiracy following an extra marital affair.
It has been found that the accused women had murdered her husband accompanying with the help of a boy with whom she was having an extra marital affair from last 2 years. Both have been identified as Lakshmi aged 25 and Jai Prakash aged 19.
Incident pertains to Ecotech 3 police station area, where on 11th May 2018, police had recovered a dead body of 25 year old man in a very bad condition. Later the man was identified as Kishan, a native of district Lalitpur who used to live here in a rented accommodation.
As the police started the probe they learned that victim (Kishan) used to misbehave with her wife Laxmi and was also aware of her extramarital affair with a young boy. On suspicion police took both of them on remand. While interrogation they confessed their crime. Laxmi said that his husband used to assault him on a regular basis. She also alleged that deceased Kishan also tortured her with electric shocks.
Briefing on the shocking incident SSP Gautam Budh Nagar said, "On the day of incident as per plan Jai Praksh took Kishan to a liquor shop and made him over-drink so much that he was not even able to walk properly. There after they returned to his house where Laxmi was already waiting for them. As Kishan took to bed and fell asleep both of them killed him by strangling his throat with a scarf. Thereafter Jai Praksh crushed his face with a stone to make identification difficult. The body was then hid in another room for the time being. On next day they went to their jobs normally so nobody may had any suspicion on them. Over their work place they planned to dump the body and on the night of 9th may it was thrown away at a vacant plot".