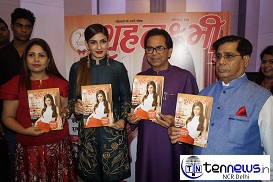 #Grehlakshmi celebrates 25 glorious years of success with Bollywood Actress #RaveenaTandon

Grehlakshmi celebrates 25 glorious years of success with Bollywood Actress Raveena Tandon
Grehlakshmi , India's fastest growing women's monthly in Hindi celebrated its 25th anniversary with Tip Tip Barsa Pani actress Raveena Tandon as its special editor. The actress was present to unveil her magazine cover at a special event organised by Grehlakshmi.
Talking about Grehlakshmi's journey, Shri NK Verma, Chairman, Diamond Group said, " Grehlakshmi has been a favourite guide and mentor for Indian women.For over 25 years now, Grehlakshmi has been capturing the essence of the moder women and how she has been evolving. With a current print run of 3, 70,000 copies, Grehlakshmi reach out to 40 lac readers every month. We are happy to have raveenaji as our special editor and her thoughts and experiences will surely be an encouragement for our readers."
Speaking on the occasssion, the perfect Grehlakshmi Raveena said, " My journey of 25 years has been a roller coaster with lots of ups and downs, success and defeats but all these experiences have made me a strong women. I have always enjoyed my profession and have been a multi tasking women throughout, a mother, wife, daughter and a homemaker."
"Parents should give time to their children. In fact I myself give tuitions to my children and help them with their Homework." She added.
When asked about the tip for a perfect relationship, she said " You should not rule in any relationship. There should be understanding between the partners."