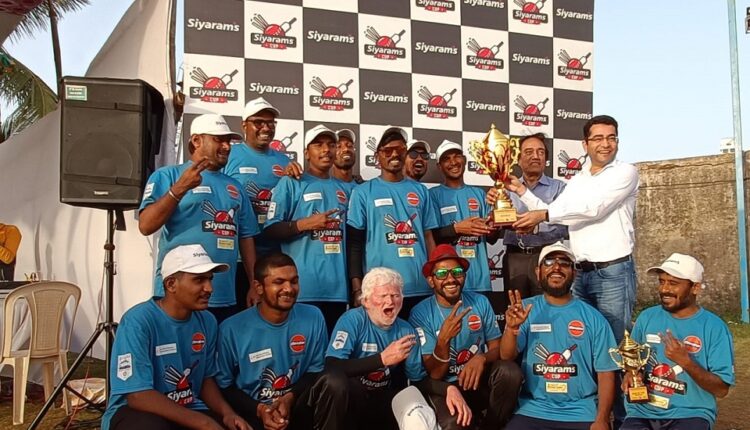 Friday, January 14, 2023; Mumbai: The Gujarat blind cricket team won the Siyaram's National Blind Cricket Tournament held at the P.J. Hindu Gymkhana in Mumbai today. The championship witnessed participation from 8 teams from Maharashtra, Goa, Gujarat, Karnataka, Madhya Pradesh, Rajasthan, Delhi and Punjab. Maharashtra set a target of 138 runs in 15 overs and Gujarat chased the target in 7.1 overs without losing any wicket. Hitesh Patel top scored for Gujarat with 77 runs in 26 balls and Gujarat bowler Manish Hadiya picked 4 wickets to limit the Maharashtra team for 137 runs.
Siyaram's successfully organised the tournament for the 9th consecutive year in association with The Blind Welfare Organisation. The organisation works closely with players from across the country and has helped over 20 players to reach the Indian National Cricket team.
"We are extremely proud of all the teams and players who participated in the tournament. At Siyaram's we have always believed in uplifting and encouraging talent from across various fields. After the recent winning moments of the Indian National Blind Cricket team at the T20 World Cup, there is great interest among the audiences as well. We are thrilled to be providing a platform and creating further opportunities for undiscovered talent from across the country", said Mr. Ramesh Poddar, CMD, Siyaram's Silk Mills Ltd.
There are 3 categories in blind cricket B1 (4 players), B2 (4 players) and B3 (3 players). Players in the B1 category are completely blind, B2 category players are 75 percent blind while the B3 category players are 60 percent blind. Gujarat has absolute dominance in this tournament since the inaugural edition. Sanjay Darwaada, captain of the Gujarat team won the toss and elected to field first. Hitesh Patel was adjudged the player of the match who scored 77 runs in the chase in 26 balls. He also won the player of the tournament for his all-round performance in all the matches picking up 2 wickets and scoring 307 runs.