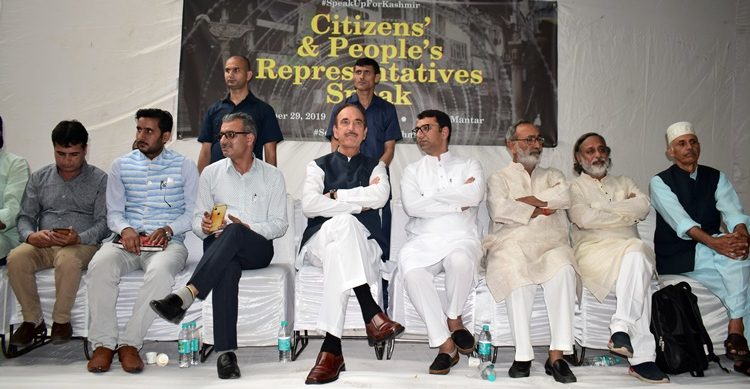 Gulam Nabi Azad joins protest at Jantar Mantar against abrogation of Article 370
Saurabh Kumar (Photo-Video) Lokesh Goswami Tennews New Delhi :
New Delhi: Citizens and people's representative of Kashmir conducted a protest against the Abrogation of article 370 in Jammu and Kashmir. Protest was joined by congress leader Gulam Nabi Azad along with the various leaders of different parties.
The organisers alleged that the peoples of J & K are facing a representative onslaught and that their lives and liberty are at risk. "We are concerned about India on this 86th day of the Abrogation of article 370 and 35 A," said the leaders.
The leaders raised slogans demanding the restoration of normalcy in Jammu and Kashmir, resumption of telecom services in the Valley and the immediate release of all political leaders who have been detained.
Speaking at the protest Gulam Nabi Azad first congrulated the people for the outcomes of Haryana and Maharashtra elections and said "People had failed their (BJP) way of manipulating public form mainstream agenda by using things like missile attack and strikes.
Further he said "Government is not concerned of economic condition of country, farmers, GDP, taking money form RBI to run country. They are the people who thinks of elections in their dream also and has a single point agenda to rule maximum number of states."
"Instead of doing work in ministery office, their minister makes election strategy in the office. They had committed sin in the temple of democracy (Parliament) by abrogating article 370 in an undemocratic way.
Members of the organization demanded immediate scaling back of the troops, no further step in future over Kashmir without the consent of Kashmiri.