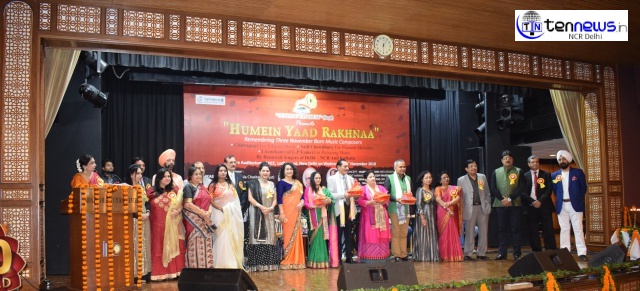 New Delhi : The magnificent evening organised yesterday at India Islamic Centre yesterday was all about three renowned November born music directors named 'Chitragupt', 'Salil Chaudhary' &'Laxmikant'.
"Gunjan- U Can Trust" continued their journey of musical events with a musical night organised yesterday with the theme of these three greatest music directors of all time and event was named, "Humein Yaad Rakhnaa".
Prasanjit Mukherjee, a very delightful classical singer from Delhi performed very nicely and the energy of his singing was easily visible in the eyes of thr audience.
Before performing, Prasanjit had a word with Ten News. He said,
"I love to perform live since I started signing for the very first time. Today, the theme itself is enough for enlightening the event. These three renowned November born music directors had a very great impact in the lives of people in their time. Even today, people prefer listening to their songs because the words their songs consists of, let the audiences sit and just feel the lyrics and the music. I am very happy to perform the songs directed by Chitragupt, Salil Chaudhary & Laxmikant."
Harish Wason, who was one of the main organiser said,
"Gunjan used to organise musical events every time with a beautiful and new theme every single time. Making the audience get lost in the world of music is the only moto of our group. Today we are going to have around 28 performances of songs been directed by these three November born music directors."
One of the performer who was a member of organising group as well named Lekha Saxena speaking to Ten News said that,
"We always feel blessed to sing in front of dedicated audiences and today we are going to perform various songs and the audience attending the event today are all big fans of the productions of Chitragupt, Salil Chaudhary & Laxmikant. I will be singing today with full dedication and keeping respect for these three November born artists in my mind."