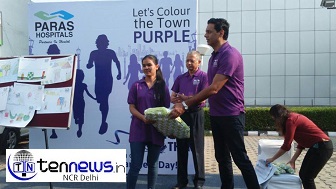 Gurgaon Residents Walk to raise awareness on Epilepsy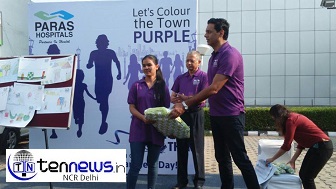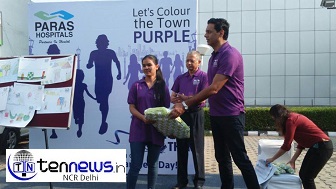 Gurgaon Residents Walk to raise awareness on Epilepsy
Paras Hospitals, Gurgaon Initiates 'Purple-o-thon', walkathonon World Epilepsy Awareness Day
Ms. Rama Rani Rathi , Municipal Councilor , Gurgaon joined the walkathon
Hospital urged corporates, schools and organizations to participate to turn the town purple to raise awareness on epilepsy
Gurgaon, 28th March 2016:, Ms Rama Rani Rathi , Municipal Councilor , along with Dr. Dharminder Nagar Managing Director , Paras Hospitals, Gurgaon , Dr. (Prof.) V.S. Mehta, Padmashree Director – Neurosciences Paras Hospitals, Gurgaon today joined Gurgaon's citizen for a walkathon as a part of Paras Hospitals, Gurgaon's initiative to spread the awareness and educate people on epilepsy that affects nearly 10 million people in India.
The walkathon saw an active participation of a wide spectrum of people from schoolchildren, working professionals to the city's elderly residents who walked across a 3 km stretch from Paras Hospitals, Gurgaon to HUDA City Centre.
Regarded as the fourth most common neurological disorder, epilepsy is a severe condition affecting 50 million of all ages worldwide. The disorder is characterized by unpredictable seizures and can cause other health problems. In India, nearly 1% of the population is affected by the disorder with high prevalence of nearly 1.9% in rural population compared to 0.6% in urban population.
Ms Rama Rani Rathi, who is currently a municipal councilor joined the walkathon as Chief Guest. Dr. (Prof.) V.S.Mehta, Padmashree, Director, Neurosciences, Paras Hospital Gurgaon, as Guest of Honour, accompanied her to support the cause. They together advocated greater focus towards educating people about the antiepileptic drugs and treatment for the condition.
"People have very less knowledge about the medical reasons behind epilepsy. In India, the condition is judged on religious and cultural myths. Hence, there are many stigma associated with the condition. The country also lacks proper healthcare centre to deal with the condition. Amidst the scenario, it become important to spread awareness about the disease and educate people about antiepileptic drugs in order to reduce the existing treatment gap," said Ms Rama Rani Rathi.
Aimed to raise awareness on epilepsy and treatment and drugs to cure of the condition, the "Purple-o-thon" walkathon is a special initiative by the hospital on World Epilepsy Awareness day. The effort aims to educate people about the condition suffered by people and their family members living with the condition. On the occasion, hospital also launched their Epilepsy clinic which will be conducted between 10:00am-12:00pm with Dr. Rajnish Kumar, Senior Consultant & Unit Head, Neurology and  Dr. Amit Arora , Consultant , Neurology.
"In India, many people fail to take epilepsy as a medical condition and consider it is as a stigma following cultural beliefs. However, it is important to understand the epilepsy is a chronic disorder with brain being the main source of the condition. The condition is characterized by recurrent, unpredictable and unprovoked seizures. Many people with epilepsy have more than one type of seizure and may have other symptoms of neurological problems. Therefore, it is important to spread awareness on the condition," said Dr. (Prof.) V.S.Mehta Padmashree Director – Neurosciences Paras Hospitals, Gurgaon.
Starting at 7 am, the walkathon covered a stretch of nearly 3 kms, with wide participation from corporate personnel, school and college children and other residents of Gurgaon, recording an encouraging footfall of nearly 250 people from all age groups.
Besides, the hospital also organized a drawing competition for the children with epilepsy on March 25, which witnessed participation from 25 children. The competition was held at the auditorium of the hospital and was successful in creating excitement amongst such children.
Post the walkathon, the chief guests were requested to give away the prizes to the winners of previous day drawing competition.
World Epilepsy Awareness Day is also known as Purple day where in people are encouraged to wear purple on the day such wrist band, t-shirts and others to spread awareness on epilepsy amongst people. People across the world observe the day by wearing purple to dispel the myths associated with the condition.