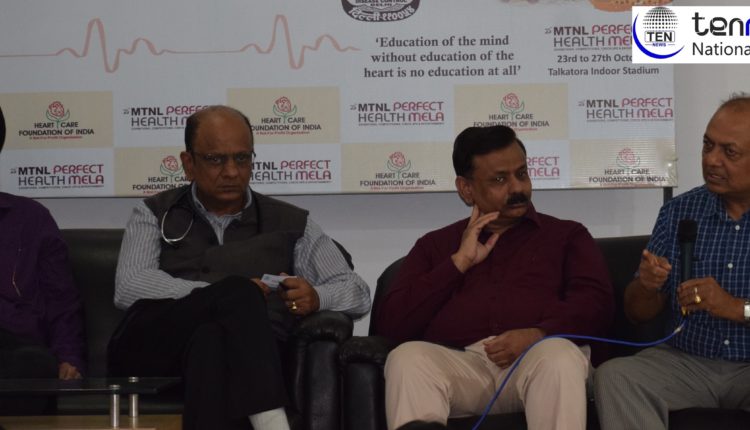 HCIF organizes award function for teachers, luminaries from CBSE-IMA take part
Vishal Malhotra (Photo & Video) By Rahul kumar jha
New Delhi; The Heart Care Foundation of India(HCFI), a leading national not-for-profit organisation, organized the HCFI Teachers' Awards today on 29th of September, commemorating the World Heart Day, at IMA hall. About 40 principals and 10 teachers from various government and private schools in Delhi-NCR received the awards for their exemplary contribution to health education at the school level.
The award ceremony started with a vocal performance in the name of Lord Ram by a boy who once was very scared because of some medical issue and was operated in one of HCIF Foundation's hospital.
Speaking at the event, Padma Shri Awardee Dr. K.K Aggarwal, President of HCIF said, "At the outset, I congratulate all those who received the awards. Apart from being centres for imparting formal education, schools also influence the overall development of a child."
Dr.Sanyam Bharadwaj, Controller Of Examination, CBSE was the chief guest at the event where he continued sharing information about antibiotics which K.K Aggarwal started in the beginning. He also shared some thoughts about present situation of proper intake of antibiotics, and said,
"Antimicrobial resistance is on the rise today, thanks to misuse of antibiotics. It is imperative to create awareness on the fact that antibiotics are not sweets or chocolates but scheduled and toxic drugs that must be taken only on prescription by a health specialist."
Dr. K.K Aggarwal then addressed these school teachers and principals with awards for their commending works.
Initiated in 1986, the Heart Care Foundation of India is a leading National NGO working in the field of creating mass health awareness among people from all walks of life and providing solutions for India's everyday healthcare needs.