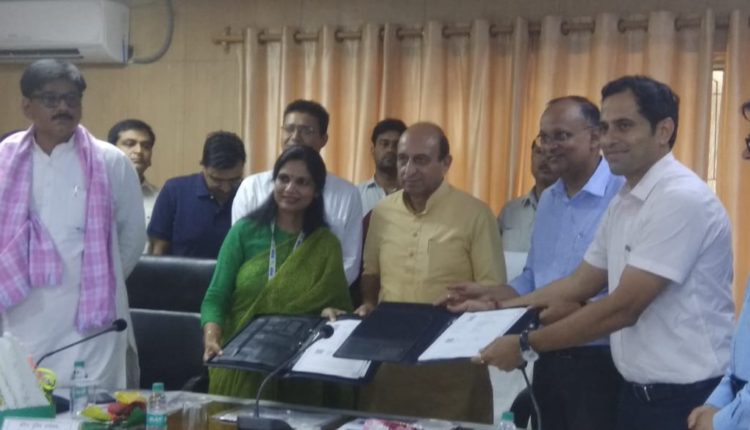 HCL Foundation partners with District Administration for Water Conservation Interventions in Gautam Buddh Nagar!
Saurabh Kumar
Greater Noida :  As a part of water conservation interventions by Government of Uttar Pradesh and District Administration of Gautam Buddh Nagar and "Harit – the green spaces initiatives by HCL Foundation", HCL Foundation, the CSR arm of HCL Technologies, today signed a Memorandum of Understanding (MoU) with District Administration, Gautam Buddh Nagar to work towards Water Conservation interventions and increasing the green cover in Gautam Buddh Nagar district, under HCL's urban development program 'HCL UDAY'.
Effective for a duration of 5 years, the MoU was signed between Rajeev Rai, Sub Divisional Magistrate – Tehsil Dadri, Gautam Buddh Nagar on behalf of district administration and Nidhi Pundhir, Director – HCL Foundation in the presence of Jai Pratap Singh, Minister of Excise, Government of Uttar Pradesh, Dhirandera Singh, MLA, Jewar and Brijesh Narayan Singh, District Magistrate, Gautam Buddh Nagar.
Jai Pratap Singh said "Our government is committed to conserve and restore water bodies and has taken a target to plant 22 crore sapling this year towards mass afforestation initiatives. I congratulate HCL Foundation for collaborating with the district administration of Gautam Buddh Nagar and taking the lead.
While Nidhi Pundhir, Director – HCL Foundation in his speech said "This MoU with the District Administration of Gautam Buddh Nagar complements HCL's motto of conservation of our ecology. The initiative to conserve and rejuvenate water bodies is a modest step from us towards contributing to the bigger goal of holistic environment conservation, which is the need of the hour.