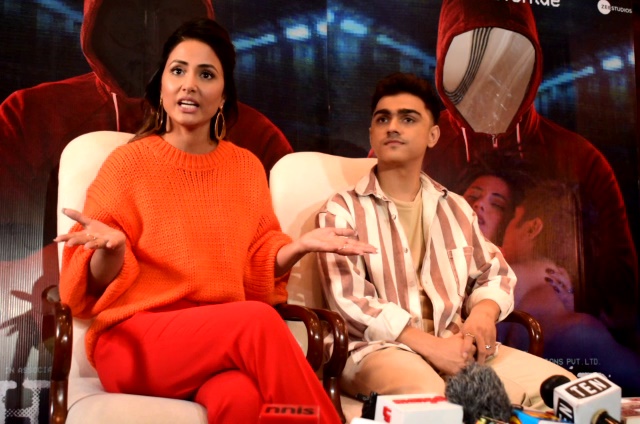 Hina Khan, Rohan Shah arrive in Delhi for promoting upcoming psychological thriller 'Hacked'
Vishal Malhotra/Lokesh Goswami Tennews New Delhi :
New Delhi (04/02/2020): Actress Hina Khan and Rohan Shah came to promote their upcoming movie Hacked in Delhi. Hacked is an upcoming psychological thriller film directed by Vikram Bhatt and produced by Amar Thakkar and Krishna Bhatt under their banner Loneranger Productions. The film stars Hina Khan, Rohan Shah, Mohit Malhotra, and Sid Makkar.
While talking to media, Hina Khan spoke about her experience of shooting and why she chose this movie for debut "I am very nervous for the release. I chose this subject for my debut because people should take something back from the movie. More people should come out and speak about the stalking. While I was reading the script many incidents came in front of me and I personally felt that everyone should realize that cybercrime is a serious issue."
Rohan shared his experience of shooting with Hina and preparation for the role of a stalker, "I am very lucky that I got to work with such a talented co-star and great director. To portray a character it is very important to understand the reason behind his behavior. I first found out why the person is committing such a serious crime of hacking and then it was more easy for me to act."