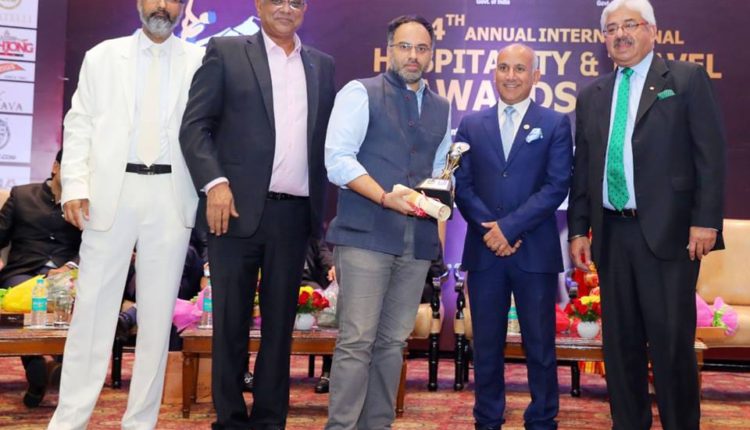 Hospitality India hosts a Grand Awards event in the capital to honour the stalwarts of the Hospitality & the Tourism Industry
Bipin Sharma
By Bipin Sharma
Hospitality India hosted a grand 14th Annual International Hospitality & Travel Awards 2018 at the Ashok Hotel, New Delhi on 5th October in association with Cox and Kings Ltd., Balaji Media and Nepal Tourism Board as the Principal Partner Country. It was indubitably, one of the most prestigious and the biggest Travel Awards in Travel & Hospitality Industry with a huge gathering of 800-900 special invitees of top hospitality professionals from all over India and abroad under one roof.
The Chief Guest of the event were K.J. Alphons, Hon'ble Tourism Minister of India and Ramdas Athawale, Hon'ble Minister of State for Social Justice and Empowerment, Govt of India. A unit of DLK Publications Pvt Ltd., Hospitality India is a name to reckon with in the field of Hospitality & Tourism.
Sharing more about the gala Awards event, Suneet Kalra, Chief Editor and Managing Director, Hospitality India Publications Group said, "After the grand success of 13th consecutive years of Hospitality India Annual International Travel Awards, we successfully organized India's biggest 14th Hospitality India Annual International Travel Awards at Ashok Hotel, Chanakyapuri in the capital recently. These high profile and prestigious national and international tourism and travel trade awards are the most comprehensive, educative, informative and innovative which have a clear cut edge over the other existing ones, and therefore they give an opportunity to the entire tourism and hospitality industry to gain knowledge about all segments of the travel trade and tourism industry. It is undeniably, one event which nobody likes to miss, and this is the reason why we welcome each and every segment of the industry to participate so as to derive all the benefits that can be derived from there. The awardees and participants are from different countries and regions such as USA, China, Egypt, Turkey, Dubai, London, Thailand, South Africa, Mauritius, Jordan, Oman , Australia, Kuwait and so forth. Many Ambassadors too graced the event with their gracious presence. The high profile and prestigious event was supported by Ministry of Tourism Govt of India, SATTE, PHD Chamber of Commerce and Industry and ASSOCHAM."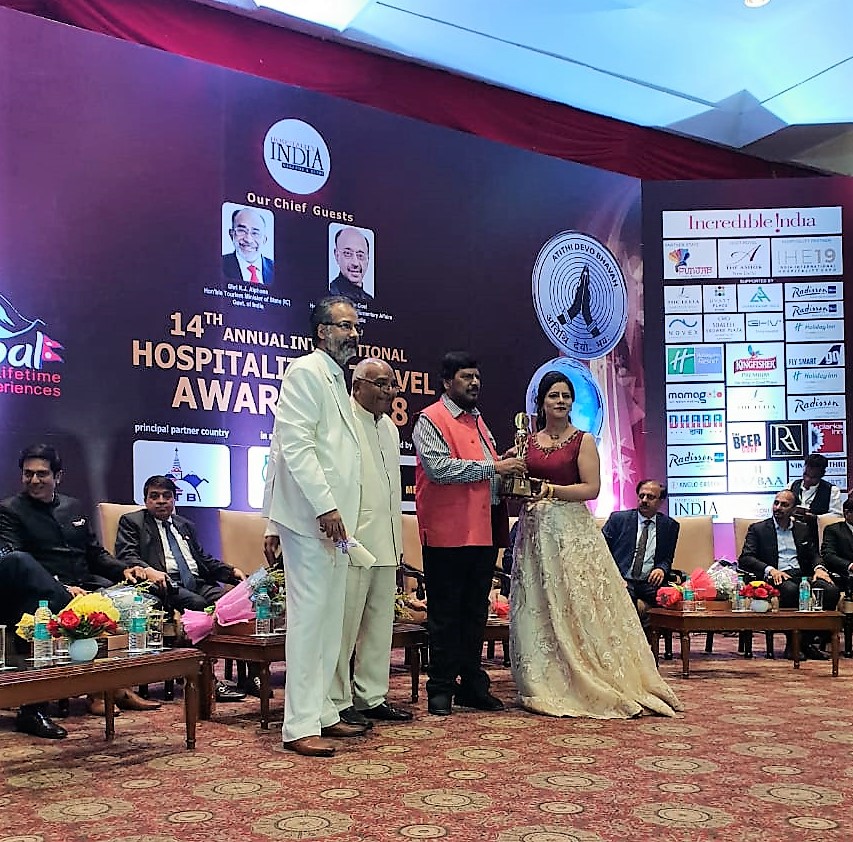 Rajni Kalra, Executive Director, "We convey our regards and hearty thanks to our partner Cox and Kings. One of longest acclaimed travel companies in the world, whose product and services are dedicated to providing value to each of their customer. Their tours and travel packages and polite services to customers are commendable. We are grateful to our hospitality partner The Ashok, our alliance with one of the 5 star rated luxurious stalwarts in the hotel industry with world class amenities, is very precious to us."
The distinguished achievers who got honoured in the event were Mehttab Siddiqui – COO GHV Group of Hotels Hyatt Place Hinjawadi Pune & Radisson Midc Andheri Mumbai (Best Chief Operating Officer). Kabir Suri, Directors Azure Hospitality Pvt. Ltd (Best Indian Cuisine Restaurant Chain in India), Dr SPS Oberoi (Renowned Philanthropist & Founder, Sarbat Da Bhala Charitable Trust), Amanpreet Kaur (CEO-Balaji Media), KS Kochhar (MD, Taurus Sarovar Portico), Dr Ravinder (ICMR Scientist), Journalists Sushil Vakil & Bipin Sharma, Eminent Media Consultant Rajni Panwar, Vishal Bakshi (MD, VR Industries), Dr Anuj (noted Microsurgeon & Author) , Poonam Saini (Style Diva & Entrepreneur). Dr Oberoi's award was received on his behalf by Palwinder Singh (MD, Balaji Media), Agnimitra Sharma, Executive Chef, Hyatt Regency Gurugram (Executive Chef of the Year), Vijay Wanchoo, Sr. Executive Vice President & GM – The Imperial, New Delhi (Life time achievement award), Ms. Ashna Kapur – Vice President Brand Development, Piyush Tiwari , Director Commercial & Marketing, ITDC , New Delhi (Best professional brand promotion & business development), Upaul Majumdar – General Manager, Soaltee Crowne Plaza – Kathmandu (Best efforts to promote Indian Tourism in Nepal), Mandeep S. Lamba, MRICS, Managing Director, India, Hotels & Hospitality Group (Best Hospitality consultants: JLL Hotels and Hospitality Group), Radha and Mr Rajshekar – Owner, UDAY SAMUDRA, Leisure Beach Hotel & SPA Kovalam, Kerala (Best 5* Hotel in Kerala) and Varun Chibber, General Manager, The Leela Ambience Convention Hotel Delhi (Best Luxury Convention Hotel) to name a few.
Speaking on the occasion, Amanpreet Kaur, CEO Balaji Media said, "Love, care and respect have always been an integral part of an Indian persona. Since ages, we have been reverent towards our guests. Indian hospitality has always set unprecedented standards for the world to follow and imbibe. Hospitality India undertook a splendid initiative to honour the best from two key industries namely Hospitality and Tourism, and this is precisely what inspired Balaji Media to join hands as the Event partners for the prestigious 14th Annual International Hospitality & Travel Awards this year.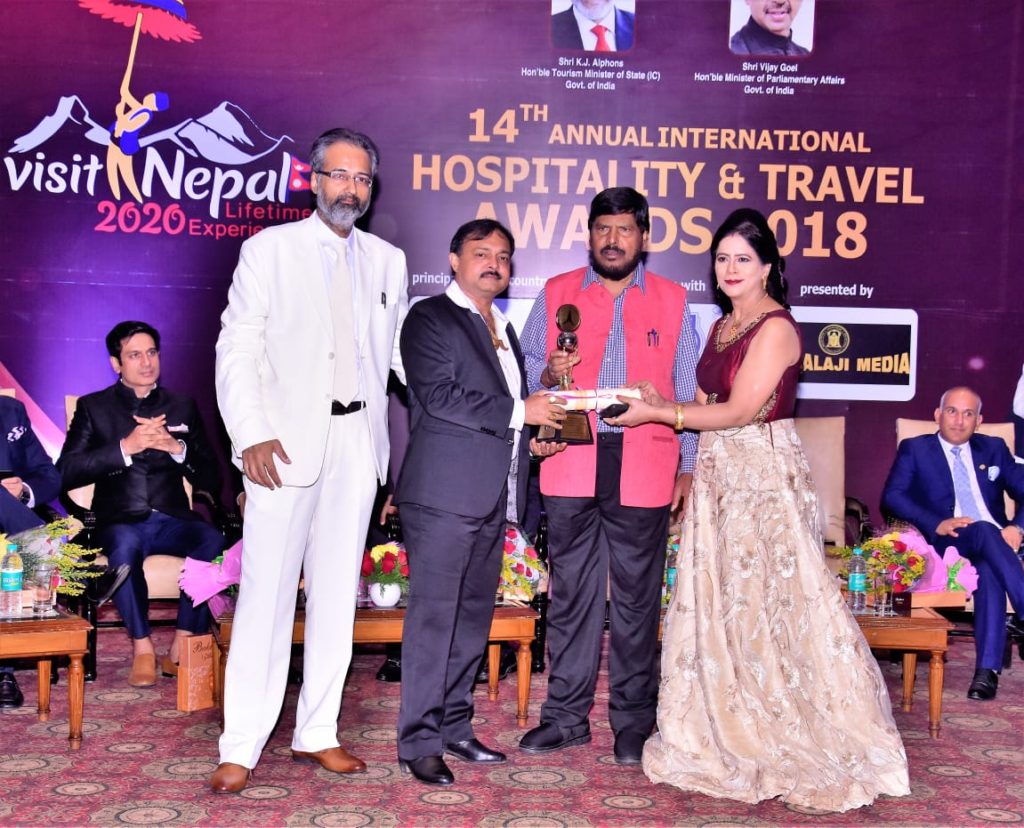 India has always been a much sought after tourist destination for global tourists owing to the numerous ancient sites, heritage monuments and myriad tourist destinations that the country is blessed with. We have a huge rush of foreign tourists visiting the country every year from all nooks and corners of the world. By organizing an evening to honour the best achievers in the Hospitality and the Tourism Industry plays a critical role in motivating others to emulate the similar feat. The pursuit to perform and deliver better eventually does a great deal of good to the Industry, and as a result, helps in glorifying the image of the country on the global arena. Indian cultural heritage and hospitality have always attracted countless tourists to our dazzling and alluring pastures."
Opined Dr Anuj, "Such Mega international level awards events also helps in addressing the various roadblocks of hospitality and tourism in the country that have yet not been attended to. There is undeniably an urgent need to become competitive and far more efficient if we aspire to move up the ladder of tourism, boost the foreign exchange revenue and other related economic activities. We cannot be dreaming of upmarket hospitality and tourism without addressing
the core issues. Medical Tourism has humongous scope in our country, and we need to promote India as a top ranked Medical Tourism destination."