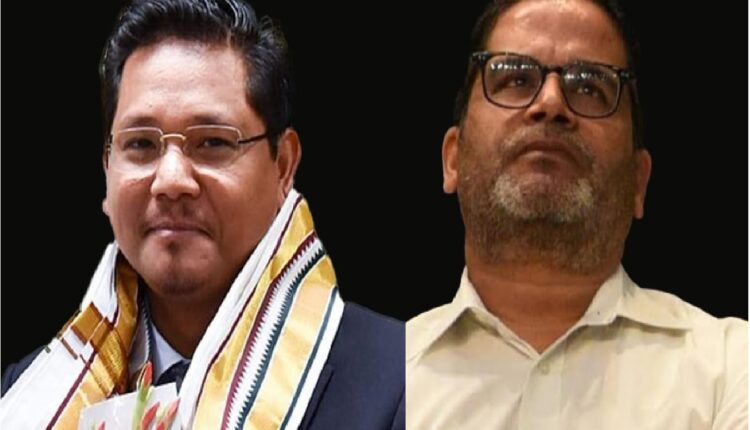 How Conrad Sangma won the battle of wits against the much-hyped Political Strategist – Prashant Kishore's I-PAC in Meghalaya
By: Ashutosh Pandey

In recent years, Prashant Kishor (PK) has acquired quite an iconic status as an ace political /poll strategist. There has been a race among political parties of varied ideologies to hire his services. Both national and regional parties have struck secret and not-so-secret deals with him and his organization, Indian Political Action Committee (I-PAC), in their quest for success in assembly and parliamentary elections.
Although there were a few assignments that did not go his way; but fortunately for PK , they somehow could not dent his well-crafted political genius, or mastermind image.
But the recent performance of All India Trinamool Congress (AITC) in the small state of Meghalaya could very well be the 'Waterloo Moment' for Brand PK". I am calling this a Waterloo Moment because it was not just a mere defeat, but a complete rout on all parameters including strategic blunders.
When Mamta Didi sent her victorious 'general' (read poll strategist) – PK to capture power in Meghalaya; she might have been quite hopeful. After all, it was PK who played a key role in heralding her back to power in 2021 against a resurgent BJP in West Bengal. But whatever Didi might have been anticipating in Meghalaya; least of all, she was not expecting such a disastrous outcome.
In the 60 member Meghalaya Assembly, the AITC could manage a dismal 5 seats, while their primary opponent – National People's Party (NPP) under Conrad K Sangma, emerged as the single largest party with 26 seats, an improvement of 7 seats over the last assembly elections. To put things in perspective, no party barring the first assembly election in 1972 has ever been able to cross the majority mark on its own in the state. So, it was indeed a stellar performance by Conrad Sangma and his team, especially because NPP had to additionally battle the odds of the anti-incumbency factor.
So, what explains this colossal failure of PK and I-PAC? A closer look reveals some grave strategic goof-ups on the part of I-PAC and semblance of overconfidence in their approach. Did an arrogant PK take the evidently humble and soft-spoken Conrad Sangma too lightly? Did he fail to estimate the rising popularity of Conrad Sangma as "People's CM" in the last five years?
I-PAC ran a massive high voltage campaign, which primarily centered around targeting an individual – Conrad Sangma and the alleged wrong doings of his government. One of the primary issues which they picked up was suspected corruption and scams of the NPP Government.  This narrative proved counterproductive for AITC on 2 counts – Firstly, the Trinamool Congress Government in West Bengal is itself under scrutiny of a series of corruption charges levelled against it. So, when they raised the corruption alarm against Conrad Sangma there were few takers. The phrase "people who live in glass houses shouldn't throw stones" proved prophetic in this case.
Secondly, I-Pac tried to cloud a positive campaign led by Conrad Sangma with a negative one, rather than coming up with a progressive narrative. In central politics, we have seen several instances of how the opposition's move backfired every time they tried to raise the corruption bogey against a mass leader like PM – Narendra Modi. Meghalaya is no different. A campaign centered around negativity, allegations, and abuses had few takers among the public.
Also, instead of putting more efforts in building one-on-one personal connect with the voters, I-PAC put their monies and energies in creating a high decibel media war to malign Conrad Sangma and his regime of five years. They even allegedly purchased newspaper editorials and there were a barrage of articles highlighting so called corruption, scams, and failures of the Conrad Sangma Government.  In retrospect, this proved to be strategic misadventure as such an approach contributed to building "Brand Conrad Sangma" further by putting more spotlight on him.
Unlike PK, Conrad Sangma is not hailed as a political analyst or guru. But surprisingly (to many) he had the last laugh in this battle of wits as he busted the PK bubble by inflicting a crushing defeat.
The central premise of Conrad Sangma's strategy was 'Keep it Simple' and he followed the 'Walk the Talk' approach. NPP's communication was driven by the delivery and success of his government's endeavours in the last five years. Success of his government's programs during his tenure were something even his greatest political adversaries found it difficult to dismiss; be it the achievements of National Health Programs, Agriculture, Water Connectivity, or Infrastructure development in the state.
Instead of targeting state AITC leader – Mukul Sangma or any other opposition face for that matter; Conrad Sangma maintained his dignity and fought the election like a true gentleman. His personal and human touch was visible in every rally or any personal interaction with voters.
During his five years, tenure, Meghalaya witnessed unprecedented efforts led by the Chief Minister himself. No stone was left unturned by Government in implementing and communicating the various development schemes at the grassroots level down to the level of the last beneficiary.
The Chief Minister personally ensured that protocols and red tape do not slowdown implementation of ambitious government schemes.
Countless programmes were organised at the District, Block and even Panchayat level where the CM was seen personally distributing cheques and other benefits to farmers, youth, Self Help Groups, and other marginalized sections of the society. Such a bottom-up grassroots efforts was bound to have a positive rub off on the electorate.
The young, educated, 'rockstar' image which this 40 something MBA- Finance CM managed to cultivate for himself also helped him garner additional attention and eyeball; especially positive national level coverage for his endeavours. His personal charisma, therefore, also played a role in his triumph; especially in attracting the young and educated voters of the state.
With this resounding verdict, the son of legendary Indian politician – Late P. A. Sangma has indeed emerged as one of the tallest leaders of not only his state, but also the entire Northeast region.
As for PK, there is no denying the fact that he was made to eat a humble pie by Conrad Sangma's positive gentlemanly style of politics. Hopefully, he and his team will go back to the drawing board and do some serious introspection.