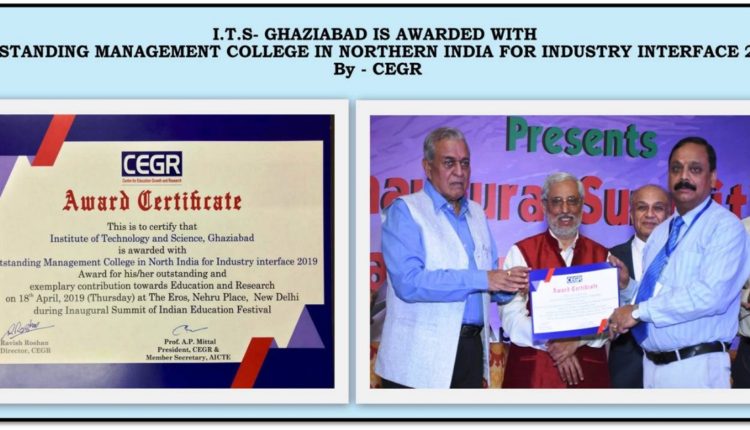 I.T.S Mohan Nagar, conferred with "Outstanding Management College in North India for Industry Interface, 2019"
By Ten News
Greater Noida (24/4/2019) : Institute of Technology & Science, Mohan Nagar has been  conferred with "Outstanding Management College in North India for Industry Interface,2019" in "Tenth Rashtriya Shiksha Gaurav Puraskar Ceremony" a glittering ceremony at The Eros, Nehru Place, New Delhi, on 18th April, 2019  organized by "Center for Education Growth and Research (CEGR)"  on 18th April, 2019 during the  First Indian Education Festival under the aegis of CEGR.
 Dr. Ajay Kumar, Director (Management) received this award on behalf of the Institute from Prof. K. K. Aggarwal, Chairman, National Board of Accreditation and Prof. Anil D. Sahastrabudhe, Chairman, AICTE in the presence of several leading educationists and educational policymakers amidst thumping applaud during the inaugural Summit of Indian Education Festival.
This is a matter of extreme pride and honour that I.T.S Mohan Nagar has been awarded simultaneously with several national and international awards and accolades for its excellent educational system, wonderful placement records, rigorous industry interface and its acceptance in the society as the most preferred professional institution. Above all this is the outcome of visionary leadership and result oriented management and administrative initiatives of Dr. R. P. Chadha, Chairman, Vice



Chairman Arpit Chadha, Secretary Sri B.K.Arora, and  Director (PR) Sri Surinder Sood of I.T.S- The Education Group.
I.T.S-The Education Group as an institution devoted to imparting higher education in many fields has always committed itself to deliver superior quality and excellence in the field of education. The institute is deeply conscious of our role in modern society of nurturing the future generation of India who will be largely responsible for taking India to the next level of economic development. The institute was established in the Year 1995 and the first program, PGDM started in the Year 1996.
I.T.S. Mohan Nagar Ghaziabad has its glorious past to bag prestigious  awards like Gunnies Book of Records, Best Institute Nurturing Entrepreneurship and Employability Reward by ASSOCHAM – 2018, Top Ranked B – School in Survey Ranking – 2018 of ELETS – Digital Learning, 9th Among Top – B School of U.P by Education World India Higher Education Rankings – 2018, 3rd Among Top B Schools of U.P by Higher Education Review, Beyond IIM, B – School Survey – 2018, 44th Among Top B Schools in India by Higher Education Review, Beyond IIM, B – School Survey – 2018, 7th Among Top B – Schools of North India by Competition Success Review, B – School Survey – 2018, 15th Among Top – B Schools in North Zone by Times B School 2018 Survey, Best Management Institute by Newspapers