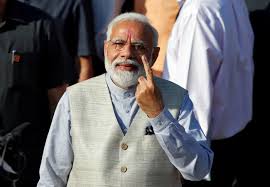 "Voters are wise, they know what is right and what is not", Says PM Modi After Voting In Ahmedabad
VISHAL MALHOTRA- TEN NEWS
New Delhi (24/04/2019) : Voter ID is more powerful than the IED (improvised explosive device) of terrorism, Prime Minister Narendra Modi said today after voting in Gujarat's Ahmedabad, where he held a mini-roadshow in an open jeep, walked down the streets and addressed the media.
"The weapon of terrorism is IED, the strength of democracy is a voter ID. I can say with certainty that the voter ID is much, much more powerful than an IED, so we should understand the strength of our voter IDs," he said on his "IED vs voter ID" theme that appeared to be a reminder of his government's national security plank.
Ditching the usual bullet proof vehicle, PM Modi arrived in an open jeep to the voting centre at Nishan Higher Secondary School in Ranip; the jeep moved slowly through the crowd, roadshow-style. Surrounded by his bodyguards, PM Modi folded his hands and spent several moments waving at the people. BJP president Amit Shah, who is the candidate for the Gandhinagar constituency, and his family greeted him. PM Modi was seen taking Amit Shah's granddaughter in his arms and again waving at the crowds, before walking into the polling booth.
After casting his vote, the Prime Minister displayed his inked finger and walked on the streets along with Amit Shah. BJP flags and banners lined the streets. Amid chants of "Modi, Modi", he spoke to the media: "I feel proud to do my duty of voting in my home state Gujarat and participate in this massive festival of democracy. Just like one feels after taking a dip in the holy river during the Kumbh Mela, I feel the same after voting."