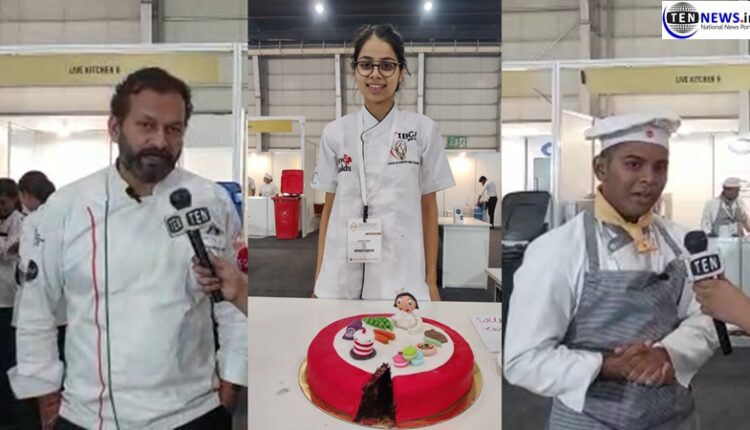 IHE 2022: Budding chefs showcase mouth-watering dishes at Young Chef Culinary Challenge
Ten News Network
Greater Noida (05/08/2022): On the sidelines of India International Hospitality Expo (IHE) 2022, The Indian Culinary Forum (ICF) on Thursday kickstarted its 3-day Young Chef Culinary Challenge which saw hundreds of young hospitality students showcase their culinary art.
IHE 2022 is a B2B trade show for the hospitality and f&b industry to showcase their innovations and technologies.
While speaking to Ten News, Jury Member of the Culinary Competition, from Punjab, said that the main aim of the competition is to bring out the best in all of the competing chefs. "We have a fantastic response this year with more than 500 applications but there were only 350 intakes," he said. He mentions the key points of this competition being creativity, understanding of food and cooking, and the trends in the food industry.
When asked about the expectations from the contests, He notes that what they look for is skills, sustainability, and the usage of local goods.
He also adds that the judging parameters of the competition include creativity, minimum wastage, nutritional value, and the balancing of all ingredients and he conveys this message to everyone to always opt for healthy sources of food and aim at minimum wastage.
One of the competitions organized on Aug 5th was the 'Millet-based Competition'. Talking to one of the participants, he explains that the purpose of the competition is to make maximum use of millet in their dishes and 60% of their creations have to include millet.
Another competition organized was 'Main Course Competition' which was a 45-min event wherein the chefs have to prepare the main course meal weighing between 180-280 grams. All the participants came up with very interesting and delicious dishes.
Another such interesting competition held today was the 'Cake Decoration Competition'. Speaking to one of the very talented participants today, she remarks that it was a great learning opportunity and the competition included different ways of creating cakes, a variety of icing methods, types of cakes like marble effect, fondant cakes, themed cakes, etc.
IHE brings together chefs and cooking enthusiasts from all over the country, giving them a platform to showcase their talent and cooking skills. Ten News witnessed numerous fascinating creations and dishes and conversed with many skilled chefs.