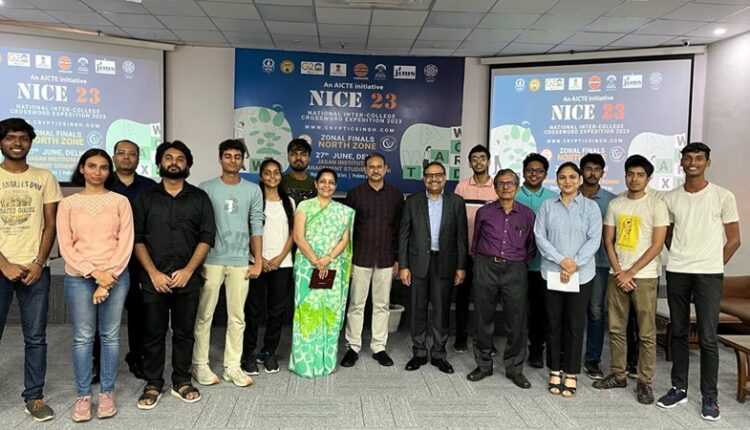 IIT Delhi students dominate in NICE-23 North Zone Finals
Ten News Network

Delhi, 28th June 2023: The North Zone finals of the 2nd edition of the National Inter-college Crossword Expedition (NICE) were successfully held at Jagan Institute Of Management Studies (JIMS) in Delh. The event, attended by esteemed dignitaries, highlighted the remarkable talent and intellectual prowess of college students from the region.
Gracing the occasion were Dr. Pooja Jain, Director JIMS; CK Mishra IAS, Amitabh Verma, IAS, and Harsh Vardhan Halve, Director General JIMS, who added significance to the North Zone finals of NICE-23.
NICE was introduced last year with the aim of fulfilling the objectives outlined in the National Education Policy (NEP) 2020, which emphasizes the importance of fostering a vibrant campus life and integrating a multidisciplinary approach to education. NICE 2023 is being organized nationwide by the All India Council for Technical Education (AICTE), in collaboration with the National Institute of Industrial Engineering (NITIE), Mumbai, and Extra-C, a civil society initiative promoting a holistic educational environment.
During the event, Mansi Madan, Assistant Professor at JIMS, delivered the welcome address, expressing gratitude to AICTE and EXTRA-C for providing JIMS with the opportunity to host the event. CK Mishra IAS expressed delight at the growing participation in the contest, while Amitabh Verma IAS delivered the keynote address, emphasizing the significance of crosswords as an innovative tool to train young minds. Dr. Pooja Jain commended Extra-C's efforts in promoting co-curricular activities and acknowledged the platform provided by the G20 to showcase important events such as NICE. She further emphasized the benefits of crosswords in enhancing critical thinking, logical reasoning, and decision-making abilities.
The winners of the North Zone finals of NICE-23 were announced as follows:
1st Position: Harshul Sagar and Arush Utkarsh of IIT Delhi
2nd Position: Vijval Ekbote and Siddharth Gupta of IIIT Delhi
3rd Position: Isha and Mihir Verma of JNU
Shree Akshay Kumar, CTO of JIMS, and several senior faculty members of the JIMS Group were present at the event to encourage the participants and award prizes to the winners. Their invaluable contribution significantly contributed to the success of the competition. Harsh Vardhan Halve, Director General of JIMS, extended his appreciation during the vote of thanks, acknowledging the crucial roles played by AICTE, EXTRA-C, and all the associates in ensuring the success of the event. The entire event was moderated by renowned cross-master Ramki Krishnan.
The National Inter-college Crossword Expedition (NICE-23) continues to foster intellectual engagement, collaboration, and critical thinking skills among college students. The event serves as a testament to the commitment of educational institutions and organizations in promoting a comprehensive learning environment.