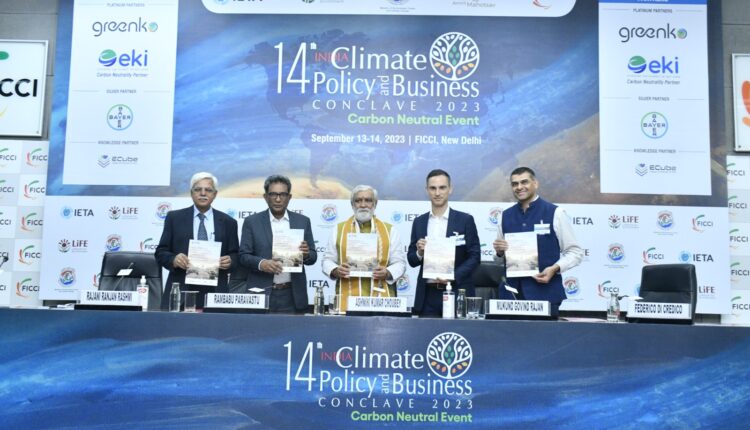 Imperative to imbibe nature and culture in work culture to achieve prosperity: Ashwini Kumar Choubey, MoS, MoEF&CC

NEW DELHI, 14 September 2023: Mr Ashwini Kumar Choubey, Minister of State for Environment, Forest and Climate Change, Govt of India today said that India is working with all stakeholders both domestic and internationally towards mitigating the impact of climate change. "Under the guidance of Prime Minister Mr Modi, India is leading the world in climate policy, and we have been able to maintain the balance between development and conservation of nature, culture and heritage. India produces only 4 per cent of carbon emissions, yet we are working to ensure to provide a safe and prosperous future to our future generation," he added.
Addressing the '14th Climate Policy and Business Conclave 2023', organized by FICCI, jointly with the Ministry of Environment, Forest and climate Change, Govt of India, Mr Choubey said that in last 9 years, the government has taken series of steps in reducing the emission intensity to below 24 per cent between 2005 to 1016. The equivalent additional carbon sinks generated between 2005 to 2019 was at 1.97 billion tons of carbon dioxide and India ranks 4th in total installed renewable energy capacity in the world, he emphasized.
Mr Choubey further stated that the government is focusing on Mission 'LiFE' for environmentally sustainable lifestyle based on traditional values to meet the challenge of climate change at global stage. "We have set 2070 as the target to meet net-zero and this can be met only when all stakeholders collectively work towards achieving it. It is important to include nature and culture in our work culture to achieve prosperity," he added. The Minister also assured the industry of government's support towards climate change and climate policy.
An Industry Recommendatory Paper on 'Developing an Effective Carbon Market Framework towards the Achievement of Net Zero in India', on Article 6 of the Paris Agreement and emissions trading and voluntary markets, developed by IETA in partnership with FICCI, was released by Mr Choubey.
Mr Federico Di Credico, Distinguished Board Member, International Emissions Trading Association (IETA), Managing Director Asia Pacific, ACT Commodities Group said that through Article 6 alone, India stands to gain up to $ 200 billion from sales of carbon credits until 2050. As India aims to support its green growth and sustainable development – emissions trading systems like Carbon Credit Trading Scheme along with an independent voluntary carbon markets led by private sector are important to help India achieve its NDC and net-zero target by 2070, he added.
Mr Mukund Rajan, Chair, FICCI Environment and Climate Change Committee and Chairman, Ecube Investment Advisors said, "As the fastest growing large economy in the world, set to emerge as the third largest market in the world within this decade, India plays a pivotal role in the international community's efforts to find solutions to the challenge of global warming. We can offer a model of sustainable growth for the rest of the world, based on the recognition that ignoring environmental responsibilities is not just morally untenable, but is economically shortsighted."
Dr Rambabu Paravastu, Co-Chair, FICCI Climate Change Committee and Chief Sustainability Officer, Greenko Group said that decarbonization is not just an obligation but an opportunity for India. "India can become the net exporter of energy by the way we can harness the possibilities of renewable energy to produce carbon free electricity and use it further to make hydrogen and various net-zero chemicals."
Mr Shailesh K Pathak, Secretary General, FICCI said, "As rapid economic growth takes place in India, and also in Asia and Africa, we must prioritize efforts to mitigate climate change in our cities and economies. Collaboration between nations, businesses and governments is essential and crucial for achieving this."
Mr Mahendra Singhi, Managing Director & CEO, Dalmia Cement (Bharat) Ltd said, "Indian government is demonstrating strong commitment to leading the way in fighting climate change. It is imperative to understand that the responsibility for environmental stewardship extends beyond corporations and governments; the younger generation holds the capacity and responsibility to actively participate in both mitigation and adaptation efforts."