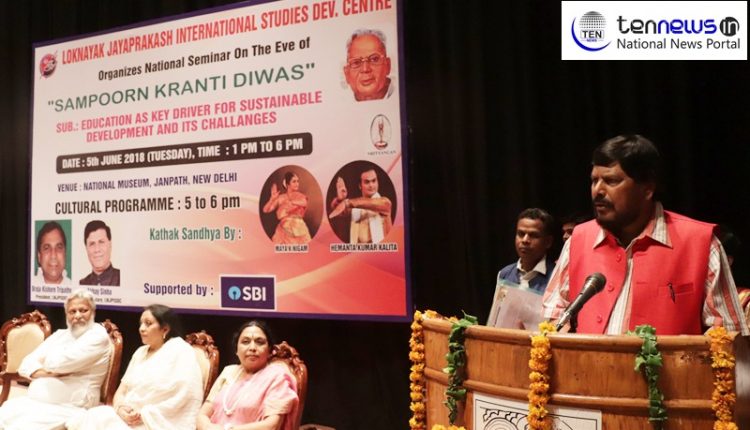 New Delhi: Our universities and colleges have become a center of certificate distribution and nobody talks about skilled and innovative education that is the reason our youths are unemployed despite posing qualification, said Professor Archana Bhatia, who is social activist and educationist.
"It is the time to reject Lord Macaulay's education policy and introduce new education policy which focuses on skill and innovation," said Professor Archana Bhatia.
In a bid highlight the shortcomings of Indian education system and their remedies, a seminar on 'education as a key driver for sustainable development and its challenges' held in National Museum, New Delhi.
The seminar has been organised by the Loknayak Jayaprakash International Studies Development Centre on the eve of Samproorn Kranti Diwas which is also known as JP Movement.
Speaking in the event, chief guest, Union Minister Ramdas Athawale said that JP Movement has changed the country. In current politics, most of the politicians are born during the movement. "We need such revolution in some in the field of education, farming, economic. These are core sectors which deal with the day to day life."
He further said, "Education is as important as food and everyone should study."
Speaking with the Ten News, former director, NCERT, JS Rajpoot said, "We should not blame Lord Macaulay for shortcomings in our current education policy. It has been 70 years since we are independent but we failed to make strong education policy."
"However, draft of new education policy has been prepared and committee has submitted its report. Now, it is on government to implement it or not," he added.