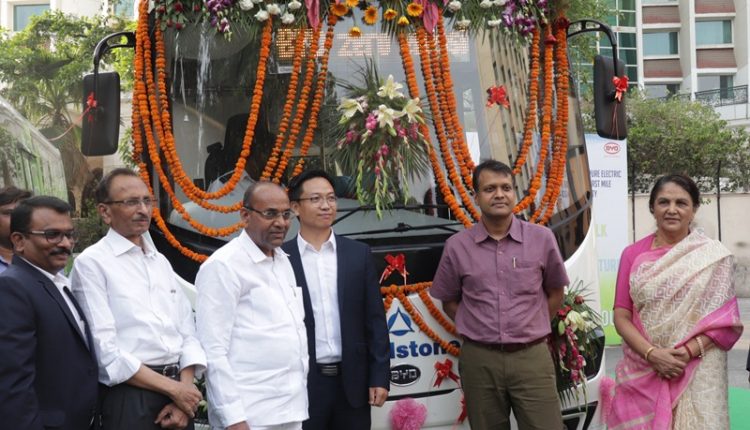 New Delhi: On World Environment Day, Union Minister for Heavy Industries and Public Sector Enterprises Anant Geete on Tuesday said that soon central government is going to launch a transport policy emphasising on electric mobility.
He said while unveiling country's first made in India zero emission electric feeder bus 'eBuzz K6' in New Delhi.
"Sensing gravity of the pollution, central government is going to table a new transport policy, keeping electric mobility in mind. We are working on the draft after taking suggestions from the automobile industry experts," said Union Minister for Heavy Industries and Public Sector Enterprises Anant Geete.
He further said, "Our first priority is to transform public transport vehicles into electric. Government is also offering subsidy on electric vehicles and planning to setup manufacturing of heavy batteries in the country."
Later he unveiled first electric vehicles of the country Goldstone-BYD which is full Electric Feeder Bus 'eBuzz K6', first bus in this category to be manufactured in India.
With a distinction of being the first Electric Feeder Bus in the country, the 18 seater Goldstone-BYD eBuzz K6 zero emission electric vehicle has been aesthetically designed to offer utmost comfort to the passengers.
Speaking on the occasion, Goldstone Infratech executive director, Naga Satyam said, " Goldstone-BYD has been spearheading the electric vehicle adoption in the country. Our focus has not only been to 'Make in India' but also 'Made for India' to meet the requirements of our diversity in the landscapes and terrains of the country."
"We have covered significant ground in meeting the requirements of several states in the country and being the supplier of choice for Mumbai, Himachal Pradesh, Bangalore, Hyderabad, amongst other states. Our proven ability to build customized, robust, yet sophisticated electric buses with utmost passenger comfort will enable us to meet the requirements of markets abroad too," he added.
Key features –
-First made in India electric bus to be exported
– 7 Meter Goldstone – eBuzz K6 can run over 200 kms in a single charge.
-Advanced Li-ion phosphate battery can be charged within 3-4 hours.
-Robust body and strong engine enables smooth ride in tough hilly terrain and plains as well.
– Buses being manufactured under the tie up with BYD Auto industry, which is world's largest electric vehicle manufacturing company.