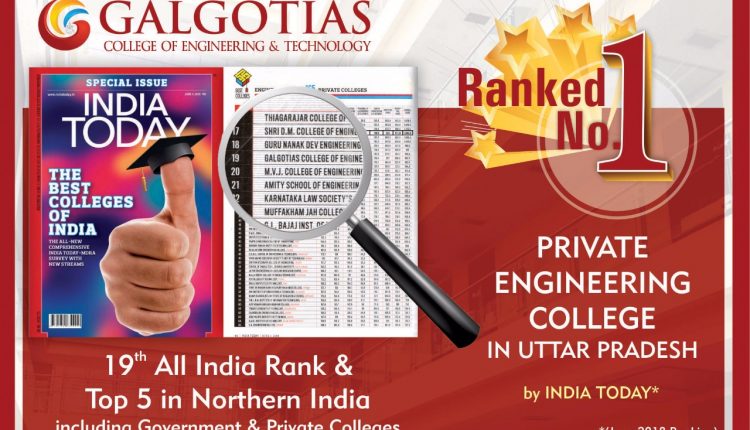 India Today Survey Ranks Galgotias College of Engineering Technology as Best Private Engineering Institute in Uttar Pradesh
Ashish Kedia
(31/05/2018) :
India Today Best College Survey, now in its 22nd year has ranked Galgotias College of Engineering and Technology as number 1 private engineering college in Greater Noida.
GCET has also scored all India rank of 19 and is among top 5 in the state in combined ranking of private and government institutes.
The survey was conducted by India today in partnership with Marketing & Development Research Associates (MDRA), surveyed 988 colleges nationwide and visited 115 colleges to verify ranking parameters.
The survey has also found some interesting facts. It reveals that the alarming slide in the engineering stream continues unabated. Once the most sought-after stream, today over 50 per cent of engineering seats are going empty with colleges approaching the AICTE to slash over 130,000 seats.
In such times of competition only the best engineering colleges are expected to survive the test of time. This survey will also prove very useful to the students to chose the appropriate college which can provide them best education as per their field of choice.