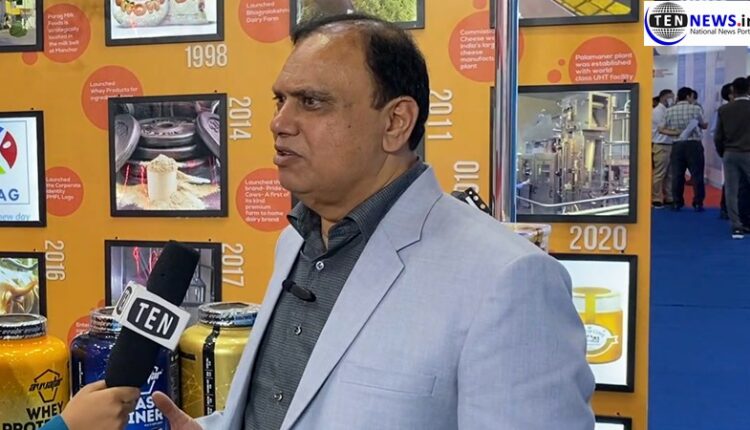 Indian dairy sector has attained unimaginable heights: Devendra Shah, Chairman, Parag Milk Foods
Ten News Network
Greater Noida, Sept 13th, 2022: Inaugurated by Prime Minister Narendra Modi on Monday, World Dairy Summit is a three-day event that aims to provide a forum for dairy processors, farmers, manufacturers, and leading experts to share ideas and new techniques in the dairy sector.

Being held at the India Expo Centre & Mart in Greater Noida, the summit is currently home to over 1500 delegates from 50 countries.
One of the leading exhibitors amongst others at the summit is Parag Milk Foods, India's second largest cheese producer under its brand name 'Go' and the country's largest cow ghee producer under its brand 'Govardhan'.
In conversation with Ten News, Chairman and Founder of Parag Milk Foods, Devendra Shah shared his views about WDS 2022 and the Indian dairy sector.
When asked about PM Modi's inaugural address, Shah said that under the dynamic leadership of Modi, the partnership of private cooperatives and the dedication of thousands of farmers, India has reached unimaginable heights.
Speaking about his expectations from the summit being held after 48 years, Shah notes that the summit is a great opportunity for the rural economy and small-business owners.
"WDS provides an innovative platform for not only the Indian dairy sector, but the international industry as well", he said.
Further talking about the growth of the Indian dairy sector over the years, Shah mentions the efforts of the Indian government.
"Vaccination programs are also being set up in several parts of the nations to ensure the health of the animals", he said.
When asked about the price hike of dairy products, the Chairman said that constant efforts are being made to ensure that the price rise can be curbed while tackling the problems faced by the farmers as well.
"We are dedicated to providing safe and healthy dairy products to our consumers and also ensure that our producers and farmers do not face any difficulties", Shah said.