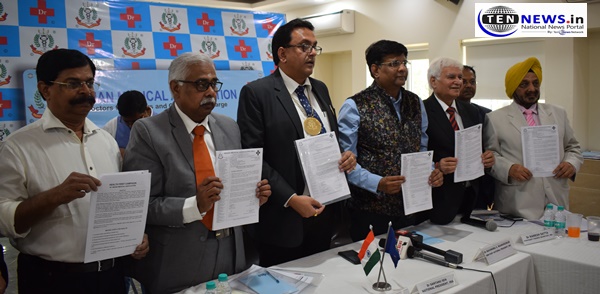 New Delhi, (17/3/2019): Indian Medical Association today released its 'Health Manifesto' and urged all the parties to give priority to health sector.
The manifesto contains various suggestions to improve public health, change policy directions, streamline medical education and improvement in medical researches.
There is insufficient health funding and the GDP in health care is at a dismal rate of 1.2%. The out of pocket expenditure is one of the highest for our country and every year 3.3% of people are pushed below poverty line due to health spending. The GDP in health care has to be increased to 5%
Talking to Ten News Dr. Shantanu Sen, National President of IMA said, "the primary and preventive care should be given top priority by the government. Wellness centres have to be reconceived and they have to be manned by MBBS graduates. MBBS doctors are ready to work in rural areas and IMA can facilitate availability of manpower to the primary care centres. There should be recruitment boards to recruit MBBS graduates for primary care".
Interacting with Ten News, Dr. Ravi Wankhedkar, Chairman of IMA National Action Committee when asked about the primary objectives of the Health Manifesto said, "the health sector in India has never been given the priority it deserves, leading to grossly inadequate services at levels. The allocation of meager 1.1% of GDP for health services speaks volumes about the apathy of successive governments towards this most important determinant of social and economical progress of a nation. Health sector is one of the largest employer of the population specially for women, so it deserves more attention from policy makers".
Some of the main suggestions of the Health Manifesto are:
Increased public expenditure in Health care.
Universal health coverage through govt funding.
Private public partnerships facilitated by not for profit institutions.
No criminalization of medical profession.
Emphasis on Primary care and Rural health care.