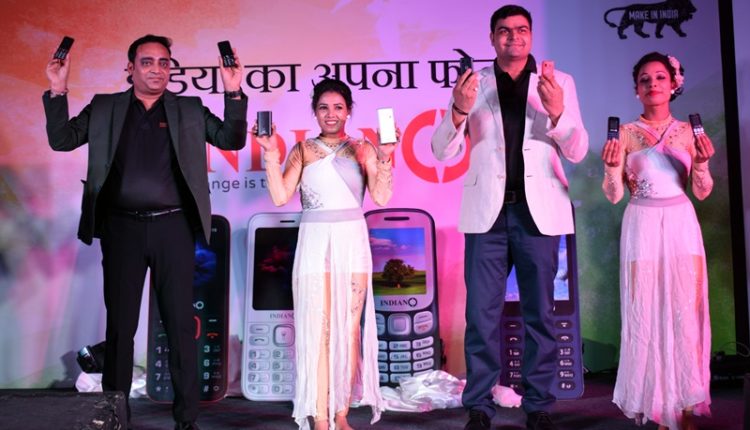 IndianO, Indian mobile manufacturing company launches four budget Super value phones in Delhi
Kashif Hasnain (Photo/Video) By Lokesh Goswami Ten News Delhi :
Company also introducing, ZERO WAIT POLICY for Replacement and 2 years buy back policy which exclusive in nature with a price range of Rs 600 to the 1200

New Delhi: To fullfil the need of rapidly growing country's mobile market, to provide customer value, IndianO, Indian mobile manufacturing company first ever launched four basic phones in Delhi today on eye-catching price.

'lNDlANO' is a completely Made in India Mobile handset following the Prime Minster Narendra Modi's vision of "Make in India" movement to develop manufacturing sector in India. The Brand is experimental on breaking new ground in Indian Mobile market and focusing on value for money product.
INDIANO, as a young Indian phone brand is constantly exploring and developing dynamic and stylish products for its users. It emphasizes the Indian customer's outlook "all the features of high end product at the lowest possible price and developed the INDIANO Phones in such thought.
INDIANO is introducing 4 basic phones and 2 SUPERVALUE (smart phones) phones (with different variants) models with its existing line of accessory products (its accessory products are already available in the market under LEO Brand). Each model is fully laced with unmatched features and Replacement Warranty.
Launching the phones, Shreeman Naryan, Chief Executive Officer of Indiana International Technosoft Pvt Ltd said -"We are experimental and pioneer in nature. We are daring to explore perfection and spread happiness through our constant innovations. The only profit we are aiming at the moment is to spread happiness through our value for money products. That's Indiana for us! "
"At IndianO, we are dedicated to the pursuit of excellence and continuously spreading happiness to our users through constant innovation. Following the passion of our moto change is the only constant', we have planned to capture 1% market share (Feature and Smart Phones together) in mobile industry by 2018-19."
Key features
There are several features which make lNDIANO products one of the best possessions in its category and design is one of them. The two models of the initial range have been designed by winner of the world's top ten design awards, MARTIN MEI, which is a matter of delight for INDIANO.
While, the Handsets are having 365 days replacement warranty, INDIANO offers unique 8 months warranty on Mobile charger which is first time in mobile industry. They are also introducing, ZERO WAIT POLICY for Replacement and DOA. In addition, INDIANO is also providing 2 years buy back policy which exclusive in nature.
lNDlANO has planned the launch PAN India operation in Two Phases. The first phase is to start with feature phone segment markets and then move to Smart phone markets In the very next phase.