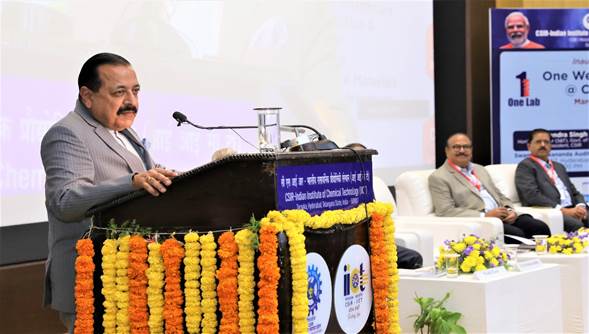 Industry should be ready to take up responsibility of being equal stakeholder in StartUps: Dr Jitendra Singh
Ten News Network

Hyderabad (09/03/2023): Union Minister of State (Independent Charge) Science & Technology; Minister of State (Independent Charge) Earth Sciences; MoS PMO, Personnel, Public Grievances, Pensions, Atomic Energy and Space, Dr Jitendra Singh said in Hyderabad that the Industry should be ready to take up the responsibility of being equal stakeholder in Start-Ups, right from the moment the project is conceived. This, he said, is essential not only for sustaining the Start-Ups in the long run by linking them with livelihood, but also for bringing about value addition to the Indian Industry as per the contemporary global benchmarks.
Addressing an exclusive session of Industrialists, Start-Ups and Innovators at the Indian Institute of Chemical Technology (IICT) here and earlier during over one-hour one-to-one interaction with representatives of some of the leading Industrialist Houses, Dr Jitendra Singh said, Hyderabad is known to be a destination of Health and Wealth as well as the pharma capital of the region. Therefore, the specialized and skilled manpower developed by the IICT should find a naturally integral place in the pharma and biotech industry of Hyderabad in particular and India in general, he added.
Under Prime Minister Narendra Modi, Dr Jitendra Singh said, for the first time after several decades, we have a political leadership and a ruling dispensation which are amenable to abandon the obsolete regulations of the past and to bring in enabling reforms for ease of Start-Ups as well as ease of business. He advised the Industry leaders to set up an institutionalized mechanism and come forth with precise and concrete proposals for doing away with unwarranted regulations and options to avoid procedural delays.
Dr Jitendra Singh said, Hyderabad Pharma City (HPC) under making is the world's largest integrated cluster in Hyderabad for pharmaceutical industries with thrust on R&D and manufacturing. He said, the cluster has been recognized as National Investment and Manufacturing Zone (NIMZ) by Government of India, given its national and international importance. Developed at international standards, Hyderabad Pharma City will harness the true value of symbiotic co-existence across pharmaceutical value chain, the Minister added.
Dr Jitendra Singh said, each of the 37 CSIR (Council of Scientific & Industrial Research) Labs spread across the country is dedicated to a different exclusive area of work and the ongoing "One Week, One Lab" campaign is offering an opportunity to each one of them to showcase the work being done by it so that others can avail of it and stakeholders learn about it. He said, keeping in tune with the transformations, the new tagline for CSIR is – "CSIR-The Innovation Engine of India". With a pool of over 4,500 scientists, CSIR can reorient and revitalize to emerge as Global Centres of Innovations in the Amrit Kaal, the Minister emphasised.
Dr Jitendra Singh said, with the active and constant support of Prime Minister Narendra Modi for all scientific endeavors since May 2014, India is scaling new heights each day in Science, Technology, Innovation (STI) eco-system. He said, out of 130 countries, we were at number 81 in the Global Innovation Index till 2015, but we have jumped to 40th position in 2022. Today India is among the top three countries in the world in terms of PhDs and we are among the top three countries in the world in terms of start-up ecosystem", the Minister reiterated.
Addressing the Heads of academic and research institutes, Leaders from various industries (pharma, biotech, agro, power), Scientists, Staff, Students and general public, Dr Jitendra Singh said, we are celebrating International Women's day tomorrow and "I am very happy to see that now woman Director General, Dr. Kalaiselvi heading the CSIR for which we waited for 8 decades".
Talking about CSIR-IICT, Dr Jitendra Singh said, the institute is almost 80 years of its formation, vigorously pursued basic as well as translational research, and is working towards sustainable development goals. He added that CSIR-IICT excelled in both basic and applied research areas of chemistry & chemical technologies. He also informed that the institute houses state-of-art pilot plant facilities to undertake industrial projects in a "concept to commercialization" mode.
Dr Jitendra Singh pointed out that the recent launch of the Hydrazine Hydrate plant by GACL by Prime Minister Narendra Modi is based on the novel technology developed at CSIR-IICT. He said, the Anaerobic Gas Lift Reactor (AGR) Technology-based plant set up at Bowenpally market yard was mentioned by Prime Minister in his popular monthly radio program "Maan Ki Baat".
Dr Jitendra Singh pointed out that CSIR-IICT developed several technologies for life saving generic drugs like the development of indigenous technology for AZT required in management of AIDS that brought down the cost of the drug in the world market.
Anti-viral drugs and vaccine adjuvant for Caixin developed by the institute played a pivotal role in limiting the spread of COVID-19 virus. CSIR-IICT partnered with the industry during the pandemic to deliver solutions to common people at the shortest time, the Minister informed.
Dr Jitendra Singh said, the institute's Flouro & Agro Chemicals Department is the first of its kind in a national laboratory that was set up to address the Montreal Protocol resolutions in 1990, when CSIR-IICT was assigned the responsibility to develop indigenous and internationally competent technologies for hydrofluorocarbons (HFCs) which are considered as well recommended substitutes for ozone depleting chlorofluorocarbons (CFCs).