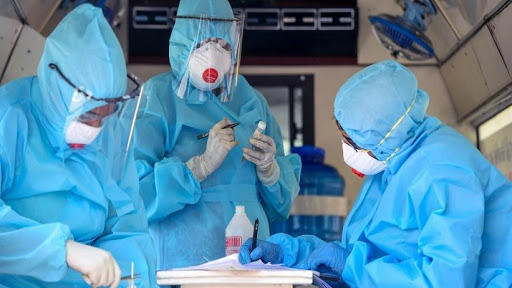 Initiatives to recognize Services Rendered by Healthcare Workers Engaged in COVID-19
Ten News Network
Ministry of Health & Family Welfare has advised States/UTs to undertake various initiatives to recognize services rendered by healthcare workers engaged in COVID-19 related duties. Some of these include:
All such professionals who sign up for minimum 100 days of Covid duty and complete it successfully will be given the Prime Minister's Distinguished Covid National Service Samman from Government of India.
State/UT Governments to consider giving preference in regular Government appointments of Health professionals through the respective Public Service Commission/ other recruitment bodies, for those Health Professionals under this special scheme, who complete a minimum of 100 days of Covid related duty.
States/UTs may also consider giving suitable honorarium for distinguished Covid Service as per NHM norms.
Government of India has introduced a new category called 'Wards of COVID Warriors' in the guidelines for selection and nomination of candidates against Central pool MBBS seats for the academic year 2020-21. Five Central pool MBBS seats were reserved for this category for the academic year 2020-21. MBBS seats were allocated for Central pool MBBS seats for candidates from amongst the wards of "COVID Warriors", who have lost life due to COVID 19; or died accidently on account of COVID 19 related duty.
Further, realizing the criticality of human resources at the time of pandemic, Ministry of Health & Family Welfare has taken a number of steps to improve wellbeing of healthcare workers. Few of the actions taken in this regard include:
With the launch of COVID-19 vaccination initiative on 16th January 2021, Healthcare workers were identified as one of the first priority group. State Governments/ UT administrations have been repeatedly urged to ensure that the medical professionals engaged in Covid related work are suitably vaccinated.
Ministry of Health and Family Welfare provided guidelines on Infection Prevention and Control practices to the State Governments to minimize the risk of infection to healthcare workers.
To build the capacities of human resources including the medical personnel, non-medical personnel and front-line workers for COVID-19 management an 'Advisory for Human Resource Management of COVID-19' was issued to provide guidance to States/UTs on the human resources mobilization, their role assignment and training requirements for COVID-19 management.
The training resources for medical and non-medical personnel on infection prevention and control, clinical management including ventilation, logistics etc. is being updated regularly and is available on the website of Ministry of Health & Family Welfare.
Online training and webinars for physicians and nursing personnel have been conducted by AIIMS on management of patients with COVID-19, septic shock, ventilation strategy, management of aerosol generating medical procedures, infection and prevention control practices, psychological care of patients etc.
In addition, training modules have also been made available on iGOT online platform by DOPT (https://igot.gov.in/igot). These include:

Basics of COVID-19
Quarantine and isolation
Infection prevention through PPE
Psychological care of patients with COVID-19
Infection prevention and control
Laboratory sample collection and testing
Clinical management of COVID-19
Management of COVID-19
ICU Care and Ventilation Management

Capacity building initiatives to conduct large scale containment operations for active case search and tracking has been carried out through training of State Surveillance Officers, Rapid Response Teams and grass root level workers/volunteers identified for surveillance activities, ASHAs, Anganwadi Workers, Auxiliary Nurse Midwives, National Service Scheme, Indian Red Cross Society volunteers, Nehru Yuvak Kendra Volunteers, Ayush Students and National Cadet Corps.
A Clinical Center of Excellence (CoE) initiative has also been launched by Union Ministry of Health with AIIMS, Delhi as apex nodal institution and State level CoEs to provide guidance on clinical management protocols. AIIMS, Delhi is conducting regular webinars on clinical management and related aspects and the State CoEs are further disseminating it to their medical colleges, district and sub-district hospitals.
The Minister of State (The Ministry of Health and Family Welfare), Dr. Bharti Pravin Pawar stated this in a written reply in the Rajya Sabha here today.